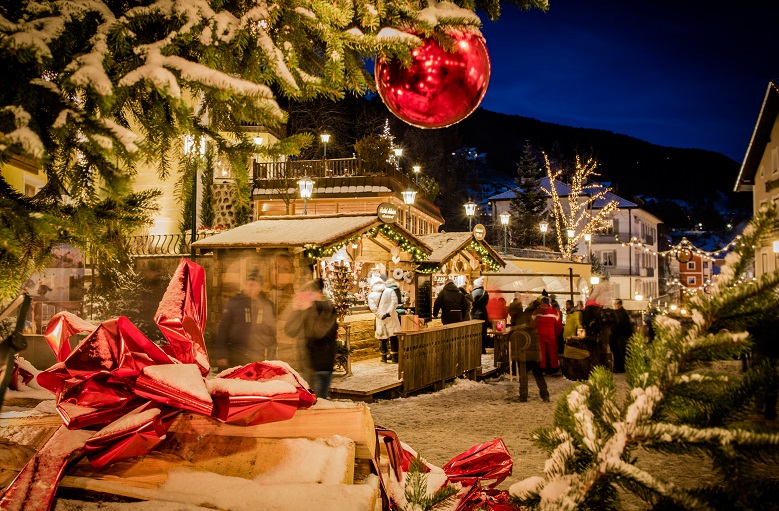 Christmas in Val Gardena is somewhat of a tradition, yet more than in any other corner of the world. The three main villages prepare to spend this magical period following their traditions. Selva di Val Gardena is ready to stage 'Mountain Christmas'. The mountain village is located in the heart of the Dolomites, at the foot of the Sella Massif, it's the highest village in Val Gardena, resting on the legendary ski-tour 'Sella Ronda' where skiing means having a blast on over 500 km of slopes.
This season too, the feel of the ski slopes will be transferred to the traffic-free part of the village between 7 December 2017 and 7 January 2018, thanks to an uninterrupted strip of floodlit area of approximately 350 metres, and 12 small wooden cable car pods where you can sample gingerbread, mulled wine, homemade cakes, artisanal chocolate, and purchase unique gifts for next Christmas.
A swirling array of Christmas decorations and twinkling lights, together with the sweet tunes of Christmas Carols will uplift the spirits of everyone and light that spark of happiness and surprise in the eyes of children. Moreover, the traditional art of sculpting in Val Gardena will be showcased in the beautiful nativity scene exhibition. www.mountain-christmas.com
Ortisei will become a Christmas Village (from 1 December to 6 January), shrouded in fairy lights. The market will be carefully prepared, steeped in a unique atmosphere where Christmas Carols will ring in the air, and tourists can taste homemade bakes, touch wooden hand carved objects, admire the lights and surroundings, and catch a tempting waft of food and wood which will warm up the atmosphere. A run-up to Christmas bursting with emotions and experiences. The stands sport countless products, all original and authentic, from sculptures, wooden tools, Advent wreaths, lanterns and frames, candles to felt products.
Choirs will perform every day and the mountain horns will fill the valleys, and you can take part in courses to learn how to create traditional wooden Ladin tools or recipes.
Children will also be able to send their letters in a dedicated post box on Piazza Stetteneck, knowing they will reach Father Christmas' house safe and sound.
The Santa Cristina Christmas Market traditionally offers typical products, crafts, and local cooking. The varied offer of Tyrolean sweets and specialties will delight the palate of visitors, who can also attend live performances of local wood-carving masters and listen to mountain music and melodies. Every weekend and on festivities, between 10 a.m. and 6.30 p.m. gingerbread biscuits and delicious 'Spitzbuben', shortcrust pastry biscuits filled with apricot marmalade, will be taken hot out of the oven. www.mercatino-natale.it/ita/index.htm
Val Gardena yet again cements its reputation as the 'Christmas Valley', offering plenty of events dedicated to the most important celebration of the year – have a look at the event calendar.
INFO: Val Gardena