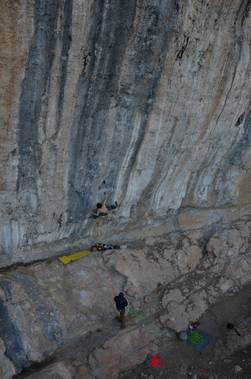 All the rest of the routes in this area, you need to climb a little bit on crumbly dollomites-like orange rock, before you get to the main bussiness. Blank-looking, staight line in the prominent part of the wall. At that time, it was already bolted. I talked about it with Chris a little later. He told me that it was insanely hard, probably possible in a way and didn't feel he could ever do it. I forgot about that for a while.
Last year, I was planning another trip to Catalunya and this project seemed so obvious to try, if I wanted something extremely hard. Chris didn't red-tag it and I took a look at it. I found a different beta and started linking the moves. In the meanwhile, Chris watched myself climbing and got psyched to try as well. Single moves went all right, but linking it? Dura! La Dura dura! But that is the challenge.
Five weeks in three trips, spring passed by and we were forced to give it up for a while as it is way too warm in Oliana in summer. When I returned in December, I thought I got significantly stronger and it would feel like a different route. But it still felt as desperate. Two weeks more and no success. No progress, the same highpoint from spring. It wasn't frustration or thinking of giving up, it was too late to give up, I wanted it SObad, there was no way back. But all I knew was that I needed to get back stronger, to have some margin to have a possibility of sending the route even with little mistake, because climbing it 100% perfect is almost impossible. Chris was getting close in December, and I was almost sure that he would have sent it by the I would be back. I wanted him to send, he would deserve it and it would breach the barrier for me as well. But Chris got tired as well and unfortunately didn't send it in that period.
It is all about preparation. That is what I did. I took a rest. One week. I left it alone and enjoyed nice atmosphere of Christmas at home. And then I started training. One week of rest can make miracles. Day after day I felt better and better, and my confidence grew. All I needed was to return to Spain, feeling strong an confident. And that is what I did. First day of trip, I made confidence even stronger by sending Power Inverter 9a+. What a great start of the trip. La Dura dura still felt despearate, but a little better at the beginning of the last trip.
I made good progress, every day felt better on the route and fifth day on the route I finally made it through the first part – 15 moves of 9b/b+. I didn't feel that pumped, but was kind unprepared mentally to climb the second part – an 8c+ on its own. I kept climbing nevertheless and fell off two moves below the jug. From this jug on, it is only another 20 meters to go of 8b to gain the final length of 40 meters.
I didn't know what to think. The success was definitely close, but would I be able to climb the first part again? Did I really get such a margin, that I was able to climb through the first part every try even with a little mistake, or do I have to wait weeks for another perfect attempt? Questions difficult to answer. One day of rest was necessary. I felt waisted, my skin on knee extremely painful from "knee-crimp" – a crucial tool to get a little rest after the first part.
Next day, feeling even stronger in the first part. But fell off the same move, being a little more pumped. Another day of rest. Boring, eh? Next day same spot, but one move higher. Last move for the jug, couldn't be any closer. After another restday, I felt it was a perfect day. Clear blue sky, really cold, fresh breeze. The rock as sticky as never, I had feeling in my stoach all day long that this could be the day. I set off, sprinted through the first 9b/b+ and got to the last two moves. I crimped the hold as hard possible all of the sudden the crimp seemed like a jug. It flicked through my mind – "it is done, impossible to mess it up while being so strong up here." But it was indeed. I went too static for 'the next hold, at very last moment my hand went off the hold and I couldn't pull more with the biceps to get back. Nooo… Crazy.
As I felt so strong, I decided not to take another restday, and try the very next day. Lowering off the pressure, taking it less seriously. But from the morning, I had doubts about this decision. My forearms were a little sore, Chris typed me a message that he was taking rest as he felt sore. But I persisted. Friction was unreal. Even better than the before. I had never seen Oliana rock as sticky. I set off. In the lower part I was significantly weaker, barely made it through. Climbing first part 9b/b+ 5 times in a row, that is not bad, eh? Knee-bar felt quite bad and I was getting pumped. Made it to the last two moves, so much more tired thn the other day. I didn't trust myself, but surprised myself by sticking the pich. "It is over, the next move is hard" I thought. But I surprised myself even the next one as well. One move to go, don't mess it up. But if I wasn't that pumped. I stuck the jug. Heart is beating, I can't believe myself, I feel like having heart-attack. The game is almost over, but not really. 8B to go, anything can happen. But nothing happened except clipping the chains of my hardest route up to date, and possibly the hardest in the world!
More info:
www.lasportiva.com