ALL THE PRODUCTS
F1, the versatile boot for all ski mountaineers in search of versatility, lightness, comfort and outstanding performance, is available in a new colourful version as part of the FW18.19 collection. F1 is the perfect product for all ski mountaineering activities, from climbing with crampons to fresh snow descents, where...

There is a new star in the world of racing: SCARPA® Alien 1.0. Every detail of the 2018 version has been improved with the aim of optimising performance, increasing heat insulation and being more accessible to all ski-mountaineering competition enthusiasts. The new shape of the cuff is derived...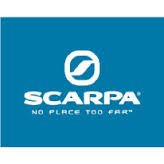 INFO
CALZATURIFICIO S.C.A.R.P.A. S.P.A.
Address:
 Via Enrico Fermi 1, 31011 Asolo TV, Italy
Tel:
+39 0423 5284
Fax:
+39 0423 528599
C.F./P.I/Reg. Imp.:
TV 00173370263
Web:
www.scarpa.net
INFO REQUEST