ALL THE PRODUCTS
SCARPA® Furia Air, the maximum expression of sensitivity and lightness.The cutting edge design and the combination of innovative materials result in a climbing shoe that enables total freedom of foot movement. The outer part of the double layer Microfibre upper is perforated to increase softness and breathability. The Alcantara...

A new entry to the most representative "family" in the SCARPA® Approach line: Mescalito KN is suitable for technical approach and summer hiking on mixed terrain. The upper with knitted technology allows for a specific construction, with differentiated thickness to guarantee light weight and maximum breathability. Protection is provided by...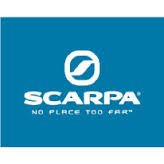 INFO
CALZATURIFICIO S.C.A.R.P.A. S.P.A.
Address:
 Via Enrico Fermi 1, 31011 Asolo TV, Italy
Tel:
+39 0423 5284
Fax:
+39 0423 528599
C.F./P.I/Reg. Imp.:
TV 00173370263
Web:
www.scarpa.net
INFO REQUEST