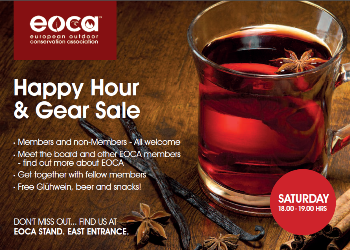 Conservation will again be coming to ISPO this winter as the European Outdoor Conservation Association (EOCA) prepares to raise awareness of its work and funds for its projects in 2015.
Not only has the association recently been joined by the likes of retail giant Amazon EU Sarl, it starts the year with a huge boost from the support of its first seven Sustaining Members, pledging to fund the sustainable growth of the organisation with an extra €10,000 per year for the next three years.
Adding to this, many of EOCA's members have donated products to help the association raise vital funds during ISPO for its projects this coming year. Smartwool will again be hosting the ever-popular and innovative Smartwool sock vending machine – ensuring that everyone who donates €5 at the EOCA or Startwool stands will be able to select a toasty pair of Smartwool socks of their choice to keep them going during the four days of the show and well beyond. Many other members have donated items which will be available on the EOCA stand for the duration of the trade fair (or until they are all gone!), including gloves, footwear, headtorches and packs.
Saturday evening at 18.00 sees EOCA's third annual Happy Hour to which all members, exhibitors and visitors are invited. Free beer, Glühwein and snacks are available, thanks to sponsorship by ISPO (Messe München). Both Goal Zero and Teko will be on hand with their Switch8 Rechargers and socks to help raise additional funds for conservation projects.
Joint General Manager Tanya Bascombe said," ISPO is always an exciting time for us as an organisation. There is an air of expectancy at the beginning of the year and following the growth of EOCA in 2014, we are definitely looking forward to the opportunities that the next 12 months will bring for conservation!"
The seven EOCA Sustaining Members financing the running of the association on behalf of the industry are: OutDoor (Messe Friedrichshafen), Pertex, KEEN Footwear, Nikwax, ISPO (Messe München), Patagonia and the European Outdoor Group (EOG), which is also the Founder Member of the Association.
To find out more about the Association please go to: www.outdoorconservation.eu