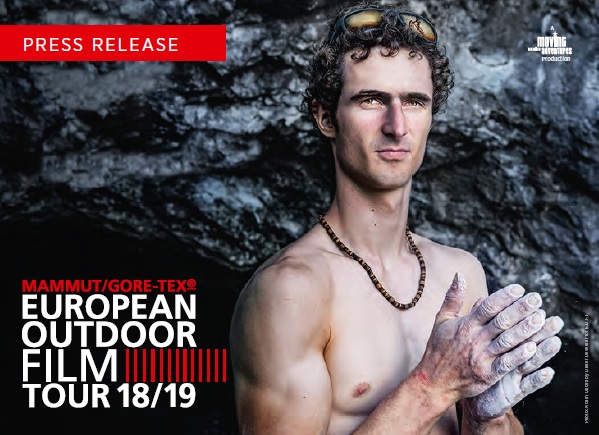 NO SCRIPT. NO ACTORS. NO SPECIAL EFFECTS. THIS IS REAL!
Since its inception in 2001, the European Outdoor Film Tour has been presenting handpicked documentaries featuring outdoor sports, adventure, and travel. The people, their active endeavors, and the locations change every year, but one thing remains the same: This is real!
The kick-off for Europe's largest outdoor fi lm festival will be at its premiere on October 9th at BMW World in Munich. The E.O.F.T. 18/19 will then begin its extended tour of Europe, with more than 400 events in 18 countries. The program has 7–9 fi lms and a total running time of about 120 minutes. With ancillary activities and program moderation, the event lasts between 2.5 and 3 hours.
THE PROGRAM OF THE E.O.F.T. 18/19
This year, the  European Outdoor Film Tour once again brings you unforgettable tragedies and triumphs, transformational stories that are an inviting escape from everyday life. From conquering the world's most difficult route with the incomparable climber Adam Ondra, paragliding over the impressive Broad Peak, mountain biking in spectacular terrain near the Arctic Circle, to rollerskiing across the U.S., this year's E.O.F.T. has what it takes to get every outdoor fan's blood pumping.
The first films: More films will be announced soon. The final program schedule will be determined by the beginning of September.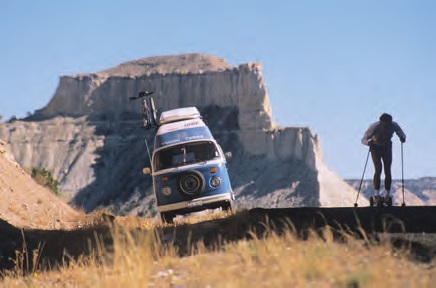 A TO B ROLLERSKI
In 1988, Raimonds Dombrovskis began the longest training run of his biathlon career. Accompanied by his dog, he set out to cover 6,700 kilometers on rollerskis, from Canada's far north to the Mexican border. The gravel roads are bumpy, the leggings are skintight, and the outcome of the project is highly uncertain. But the winds of change are blowing—not only in the streets of North America but also in Raimonds's Latvian homeland. He is convinced that the collapse of the Soviet Union is imminent. His dream is to compete for the Latvian (not the Soviet!) biathlon team at the next Olympic Winter Games… but first, he has to make it to Mexico.
Lativia 2018 // director: Arnis Aspers // protagonis: Raimonds
Dumbrovskis // Moodwork & Look at Riga.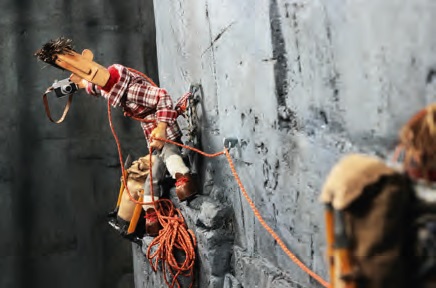 VIACRUXIS
There are times when a mountaineering expedition turns into an absolute nightmare—even if you reach the summit and sometimes because of it. Fortunately, our two stalwart mountaineers are unaware of what lies ahead of them on this tour. They wordlessly fight their way through snow and ice. Just as the summit photo op comes into view, their expedition takes an unexpected turn. Viacruxis is a thoughtfully animated stop-motion film about the obstacles one must face on the mountain—big and small.
Spain 2018 // director: Ignasi López Fàbregas // Ana Vega Pérez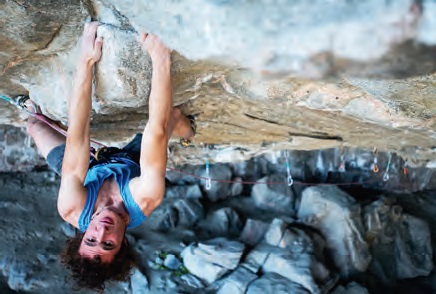 THE A.O.
Adam Ondra is one of the most successful and versatile sport climbers of our time. He successfully climbed the most difficult route in the world, now called Silence, and established a new level of difficulty—9c. The Czech climber has also shown what he can do when it comes to big wall climbing; his strong, lean body seems to effortlessly transcend gravity. But is it simply Adam's muscle power and endurance that enables him to conquer the most difficult routes? Or is it his mental strength that drives him climb an 8a while blindfolded? We find out more about the forces that drive this climbing talent to new heights in "The A.O."
Germany 2018 // director: Jochen Schmoll // protagonist: Adam Ondra // Moving Adventures Medien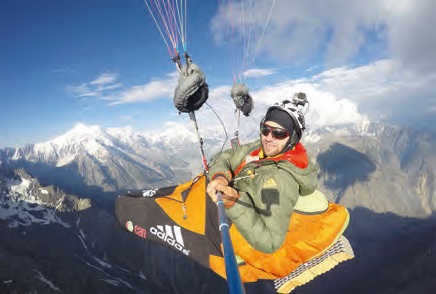 8000+
In July 2016, the paraglider Antoine Girard set off on a threeweek hike-and-fly tour to explore the Karakorum mountains in Pakistan—alone. The Frenchman has already twice failed in his attempts to climb the 8,051-meter-high Broad Peak and paraglide from the summit down into the valley. Now, his hope is that the upwinds will carry him and his chute to the summit—and possibly beyond. If he succeeds, he will set a new altitude record in paragliding,
but the air is thin between the 8,000-meter peaks, and take-offs and landings are extremely tricky.
Germany 2018 // director: Christian Schmidt // protagonist:
Antoine Girard // Moving Adventures Medien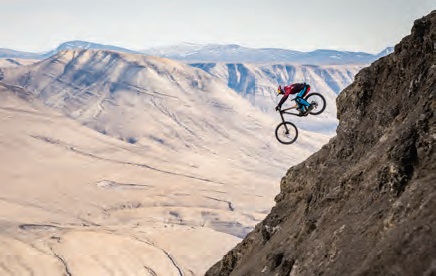 NORTH OF NIGHTFALL
Axel Heiberg Island is Canada's seventh largest island and lies north of the Arctic Circle. In winter, it is cloaked in total darkness and completely blanketed by snow and ice. But when the sun rises again, the island flourishes, revealing its rocky landscape crisscrossed by mighty glaciers and offering the most spectacular mountain bike terrain. It's no wonder Darren Berrecloth, Carson Storch, Cam Zink, and Tom van Steenbergen can't resist the endless
descents.
USA 2016 // director: Jeremy Grant // protagonists: Cam Zink, Darren Berrecloth, Carson Storch, Tom van Steenbergen, Dr. Laura Thomson // Red Bull Media House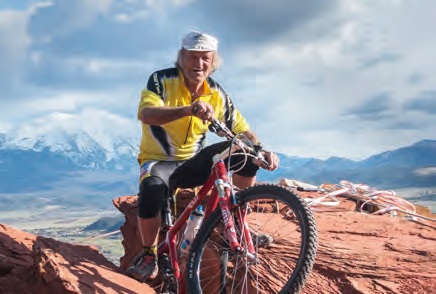 THE FRENCHY
"No problem!" Anyone who hears Jacques Houot's life story will be surprised at how the 82-year-old has managed to reach this age. There were at least 23 times in his life when he could have  met his end all too early. Somehow, he has always managed to land on his feet and keep going. Today, Jacques spends most of his time in the mountains near his home in Carbondale (Colorado). No mountain bike trail and no ski slope is safe from the likes of this native Frenchman. Jacques Houot loves life and he lets everyone know it.
USA 2018 // director: Michelle Williams // protagonist: Jacques
Houot // Ungrounded LLC
ALL INFORMATION ABOUT THE FILMS AND EVENT DATES CAN BE FOUND AT WWW.EOFT.EU
Tickets are available starting at 16 Euros for local, advanced booking and online at Outdoor-Ticket.net