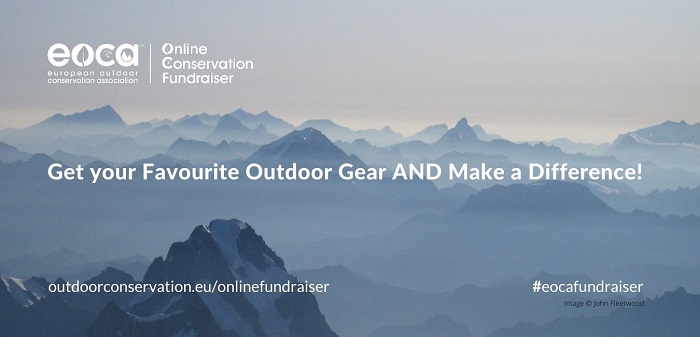 Together with 16 member companies, the European Outdoor Conservation Association (EOCA) is turning Black Friday green!  All of these forward-thinking companies are planning to offer products to customers looking for pre-Christmas purchases, while at the same time, using the opportunity to raise funds for vital conservation work around the world via EOCA.
The online Conservation Fundraiser will allow people to buy their favourite outdoor gear AND make a difference.  The money raised will all go towards vital conservation projects, including EOCA's six recently selected projects, tackling plastic pollution in the environment and at source, in Spain, Italy, Brazil, Columbia, and the UK.
Seven members have chosen to raise money for the association through actions on their own websites:
Cumulus will be holding an online 'garage sale' for a large number of items, with 100% of sales being donated.
Deuter will be donating 10% of all online sales from its website over the Black Friday weekend.
Gregory will be donating 20% of online sales via its website for the week of 23-30 November.
KEEN is holding a 'You buy, We donate' fundraiser from 20-30 November, with €10 of all purchases being donated via EOCA or two other charities.
La Sportiva will be donating 40% of all sales from its website over the Black Friday weekend.
Montane will donate €5000 to EOCA as an alternative to traditional Black Friday marketing spend.
Osprey will donate a percentage of each sale from its website on Black Friday.
EOCA is very grateful to its partner Outdoor Gear For Good (OGFG), which carries out online fundraising for the association.  OGFG is a community interest company (not for profit) based in the UK.  It receives donations of excess stock from the outdoor industry and raises money for EOCA by selling it. In addition, OGFG works with EOCA on specific fundraising events and the association is delighted that ten EOCA members have sent generous donations for the Green Friday event.  Items will be listed on the new OGFG eBay shop over the coming month, to raise further funds.
Berghaus has donated a range of packs and clothing.
Craghoppers has donated a number of different jackets.
Lowe Alpine has donated a range of packs and accessories.
Nikwax has donated a range of cleaning and proofing products.
Osprey has donated a range of packs.
Pajak has donated warm and lightweight sleeping bags and mittens.
Salomon has donated many women's running vests.
Stanley has donated a large number of travel mugs.
Trangoworld has donated waterproof and windproof jackets.
Ternua has donated insulated jackets.

Details of all the fundraisers and where to support them can be found at https://www.outdoorconservation.eu/onlinefundraiser/
Joint General Manager Catherine Savidge said, "Yet again, EOCA members have stepped up to the mark, despite 2020 being an unprecedented year for business and individuals in the outdoor sector.  These companies are generously demonstrating how important it is to support conservation of wild places around the world, for now and for the future.  We very much hope people will support their actions and join us in turning Black Friday green!"
INFO: EOCA