Ice climbing is a truly extreme sport. Extreme physical and psychological stress and confrontation with the harsh elements mean that ice climbers really are on the razor's edge. The Winter 2015/16 alpine collection by the mountain sports equipment manufacturer Mammut offers equipment and clothing for precisely such challenges – designed with renowned Swiss quality.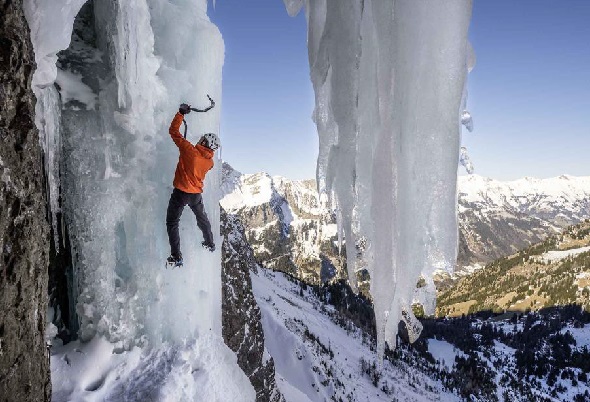 Some people push their limits ever further. They leave their comfort zone to put themselves to the test and find out what lies behind the barriers they impose upon themselves. Ice and mixed climbers are among these people. Their sport demands everything from, both physically and mentally, and is fascinating and daring in equal measure. Ice climbing requires experience, meticulous preparation and the ability to constantly deal with the situation at hand. What observers regard as a tightrope without a net, is far from being a reckless risk; it is the result of technical skill and trained judgment.
The roots of this relatively young sport lie in alpinist training on ice faces. What began as preparation for high-altitude mountain expeditions expanded to become a new discipline of mountain sports from the 1970s onward. Although the aim of the alpine and ice climbing is the same, namely to conquer difficult routes, the use of crampons, ice tools and ice screws means that the equipment differs significantly from that of typical rock climbing. Mountain sports enthusiasts therefore faced and continue to face new challenges on frozen water. Another new form of climbing has now also developed: mixed climbing, which involved combined ice and rock routes.
Names such as Thron (Averstal, Switzerland) or Hydrophobia (Brunnital, Switzerland) and the sight of frozen waterfalls, huge icicles and ice-covered cliffs set the hearts of ambitious ice climbers racing. Athletes such as Dani Arnold of Switzerland are now bringing ice climbing to a new level. The Mammut Pro Team athlete feels at home on the most spectacular ice routes and regularly impresses with extreme performance. Speed records, such as the Eiger North Face and the Matterhorn, the clean climb of the extremely difficult Scottish route The Hurting XI 11 or the trilogy within a day of Flying Circus, Mach 3 and Crack Baby in the ice-climbing Mecca of Breitwangflue secured him a place among the great names of alpine sports.
Certain things are essential for climbing on snow and ice, not just for Dani Arnold, but for every alpinist. These include functional equipment and materials that can withstand the relevant stresses, while offering minimum weight and maximum reliability. In Winter 2015/16 the mountain sports equipment manufacturer Mammut is again offering ice and mixed climbers products specifically tailored to this type of climbing. Designed and developed in collaboration with Mammut Pro Team athletes, they offer the perfect companion equipment for icy faces.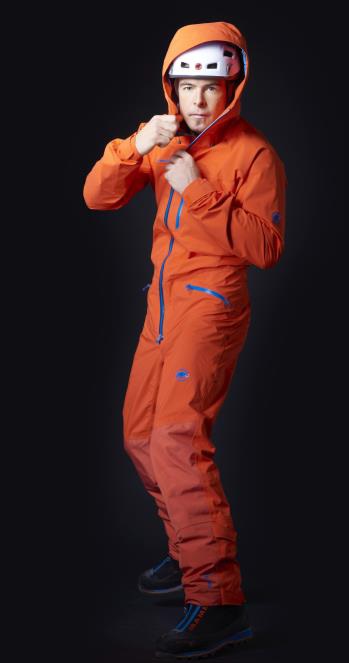 No compromises: Mammut Nordwand Pro HS Suit Men
Uncompromisingly technical and pared down to the essentials, the Nordwand Pro HS Suit Men has been developed specifically for extreme applications in high alpine terrain in close consultation with Mammut Pro Team athletes. It therefore not only meets the demands of sheer ice and mixed climbing, dry-tooling and major north faces; it exceeds them. An opinion shared by the international expert jury at the leading OutDoor trade fair. It awarded the Nordwand Pro Suit Men the OutDoor Industry Award 2015, basing its decision primarily on the garment's clean and functional design.
A special cut, long panels and reduced seams create a new level of freedom of movement in this extremely light suit. In terms of materials, Mammut has opted for a novel combination of 3-layer GORE-TEX® Pro and 3-layer GORE-TEX®. This mixture of materials combined with the sealed all-in-one design reliably keep moisture on the outside. Additional benefits: No unpleasant cold bridges between jacket and pants, and significantly less fabric under the climbing harness, which makes it easier to move. It also means an end to disruptive unintentional hooking of carabiners on the hem of the jacket. The clever arrangement of two adjustment cords allows this helmet-compatible hood to be adapted precisely to the wearer's head, while its reinforced peak withstands even the strongest gusts of wind. The extra-wide cuffs can be adjusted using Velcro closures and are also roomy enough to accommodate gloves. Equipped with reinforced seam edges and Dyneema® crampon/edge protection, the legs of the suit also feature integrated snow gaiters with hooks for attaching to boots.
INFO: Mammut