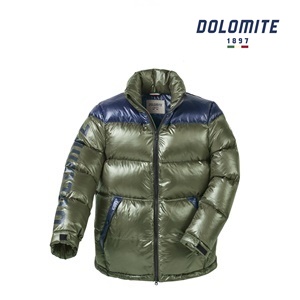 Dolomite celebrates its 120th Anniversary with a special celebratory collection.
Cinquantaquattro Special jackets were inspired by the Dolomite's legendary jacket of the Eighties, but now with a new, looser fi t. The range comprises six colour choices, all with the strong, colour-block contrasts typical of the 1980s, from yellow teamed with blue, to red with pearl-grey, midnight blue with ivory, plus the more sober shades of military green and navy blue. A big, contrasting Dolomite logo on the sleeve is the distinguishing feature of the whole range and a bold declaration of identity for jackets with undisputable personality. The genuine goose feather padding ensures maximum comfort and heat insulation.
Like the men's range, the Cinquantaquattro Special line for women draws on the oversized fi ts of the '80s. With all the characteristics of the men's collection, it is distinguished by a range of plain colours and by a sparkling silver big logo on the sleeve.