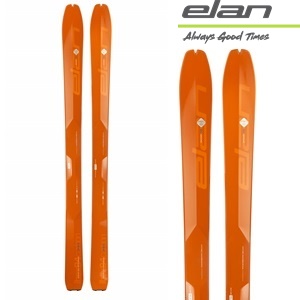 Designed for those adventures who want all of the bennefits of lightweight technology in a wider chassis designed for bigger and deep conditions, the Ibex 94 C delivers state of the art lightweight technology in a wider ski design.
The all new IBEX series was designed for those who leave the chairlift behind and feel the best source of energy is human power. From Exercise to Adventure, the IBEX series incorporates Elan's tubelight woodcore which reduces weight and improves efficiency, with our new Bridge Technology. The result is stabile and secure descents with confidence. Up or down, Elan's new adventure series sets the new standard in high performance touring skis. Bridge technology reduces weight and provides torsional stability and unparalleled power transfer to the edges. Innovative and unique 3D shape improves snow shedding and the wood core profile is reinforced with Vapor Tip inserts for smooth ride and further weight reduction.
PROFILE: 

Mountain Rocker

TECHNOLOGY: 

Bridge technology, Tubelite Woodcore, Vapor Inserts, CYA AluPlate, Fiberglass

GEOMETRY: 

131/93/110, 130/94/111, 132/94/112, 132/95/113

LENGTH RADIUS: 

163(18.9), 170(20.1), 177(21.2), 184(22.7)

WEIGHT: 

1350g +/- 50g (163)

RECOMMENDED BINDING: 

AMBITION 12 W/O BRAKE

RECOMMENDED BRAKE: 

BRAKE AMBITION 95.