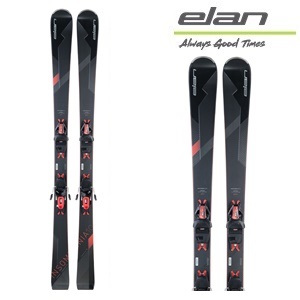 Providing all day energy and fun at the mountain
Getting the most out of your equipment, allows you to get the most out of your day. With the Elan Women's All Mountain skis, you can count on them anywhere and everywhere you take them on the mountain, from first chair to last.
Made with Elan's strategically shaped Amphibio technology, every turn is entered with ease and exited with power for unrivalled all-mountain performance, power and versatility. Topped with the free-flex Power Shift bindings, skiers are fueled with a constant source of energy and precision all day long.
Perfect Blend of Ease and Confidence
The Insomnia 10 proves performance doesn't always come from added weight and bulk. It comes from a design aimed at effortless, controlled, confident skiing which means less fatigue, more skiing and ultimately more fun.
An impressive engineering feat, the Insomnia 10 is one of the lightest women's ski in the world. Developed with Elan's most awarded Amphibio technology, it feels natural when charging short and long turns with precision and comfort.
As a tool on the mountain, it is light but uncharacteristically strong thanks to finely selected lightweight Laminated Woodcore. The unbelievably light weight ski comes from the finely tuned Amphibio Truline W Technology, optimizing the transfer of energy from the skier to the ski for a balanced performance with powerful rebound, easy turning and enhanced edge grip. As a by-product of the efficient ski design, energy is saved throughout the day to ski all day long.  With the Insomnia 10 you are skiing smarter, lighter and stronger.
CODE: ACGGKA20 (White), ACGGKH20 (Black)
PROFILE: Amphibio
TECHNOLOGY: TruLine Technology, RST Sidewall, Laminated Woodcore
GEOMETRY: 127/76/104
LENGTH RADIUS: 144 (10.1), 150 (11.5), 158 (13.9), 166 (14.4)
SYSTEM/PLATE: Light Shift
BINDING: ELW 9.0 GW SHIFT BLK/PURPLE (White), ELW 9.0 GW SHIFT BLK_COR (Black).