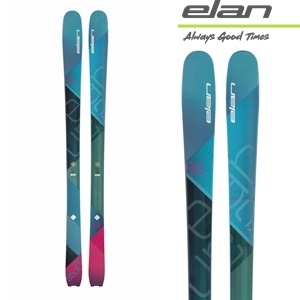 Progression and versatility is the name of the game with the new Ripstick 86W. Wide enough to handle whatever the mountain dishes out and light enough to be agile and versatile to make any condition look easy.
Designed for the most challenging terrain and any snow condition the mountain can dish out, the Ripstick series is the ultimate Freeskiing tool for demanding skiers. Constructed with a progressive shape and unique TNT technology to maximize weight reduction and efficiency, the Ripstick delivers uncompromised versatility and smooth performance. With the addition of the Amphibio profile and SST sidewall construction for power and stablity, the Ripstick floats like a butterfly and springs like a ski.
Elan's TNT technology is a unique and innovative combination of a TubeLite Woodcore,featuring tip-to-tail carbon tubes, Vapor Tip inserts, and advanced composites that are integrated into the tip of the ski's woodcore.
PROFILE: 

Mountain Rocker

TECHNOLOGY: 

SST sidewall, TubeLite Woodcore, Vapor Tip, Fiberglass

GEOMETRY: 

125/86/104, 125/87/106, 128/88/116

LENGTH RADIUS: 

158(15.4), 166(16.2), 174(17.6)

RECOMMENDED BINDINGS: 

ATTACK2 11 GW W/O BRAKE

RECOMMENDED BRAKE: 

POWERRAIL BRAKE SL 90.