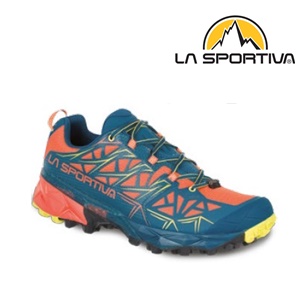 A Gore-Tex®, waterproof shoe ideal for winter running. A structured and protective shoe, ideal for Ultra Trails, Ultra Marathons and winter training sessions.
Akyra GTX® is a particularly snug fitting, comfortable and breathable shoe.
V Shape front flap to reduce contact with the external elements and prevent stones and mud from entering the shoe. This feature also makes the shoe very easy to pull on.
TPU lightweight, protective toecap
PLUS:
›› Snug fitting uppers, comfortable and breathable thanks to the innovative 3 layer construction
›› Exclusive Trail Rocker™ outsole: facilitates the natural motion "external heel-internal toe" of the foot while running
›› The design of the sole derives from the geometry of origami in order to enhance flex
›› Ideal for winter use thanks to the waterproof mesh fabric laminated to the Gore-Tex® Extended Comfort membrane.
TECH INFO:
Uppers: AirMesh Ultra-Comfort + external application in TPU thermo adhesive microfibre MicroLite Skeleton™ + water repellent, abrasion resistant single mesh with Flex-Guard™
Lining: Gore-Tex® Extended Comfort
Midsole: MEMlex injected EVA
Footbed: Ortholite Mountain Running
Sole: FriXion XT.