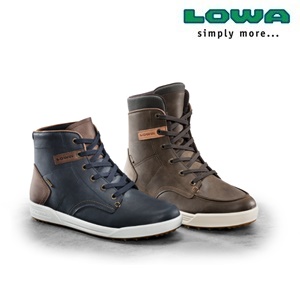 COOL SNEAKERS FOR COLD WINTER DAYS
Sizes: 6,5 – 13
Weight per pair (UK 8): 970 g, 800 g
The name here speaks for itself: If you consider the weather on the British Islands, you know immediately how unpleasant in particular the winter months can be. So it all depends on dry and especially warm feet. Nevertheless, the urban aesthetic cannot come up short in the process. That is shown by both winter boots, the LONDON II GTX® QC and the GLASGOW II GTX® MID, that have earned another upgrade to their cold protection and looks – not only to the joy of many Brits.
Just as the prior model, these fashionable winter boots pick up the simple, clear design of classic sneakers. Then the look is complemented with performance details, such as the side zipper at GLASGOW II GTX® MID to ensure easy in, easy out. An urban look is created with metal eyelets, leather patches and hand-stitched detailing that is all enhanced with the Loden wool insets on the soft upper. The soft lining of GTX® Partelana or the somewhat thinner GTX® Panda ensures cosy warm comfort. The GLASGOW II GTX® MID offers a little more warmth with its 5mm-thick PU sneaker sole. In addition, you get especially good traction on snow and ice. And to ensure feet always still dry, the durable smooth leather offers optimum weather protection when the season is cold and wet.
You don't need a British sense of humor to ungrudgingly concede that both the LONDON II GTX® QC and the GLASGOW II GTX® MID waterproof winter boots are the lovely stylish answer to less than lovely weather – either on the island or the continent.