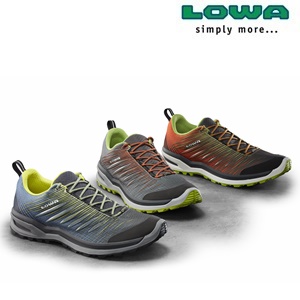 If you want to be innovative, you are never satisfied with past achievements, but aim high over and over again. LOWA already set a milestone when it comes to multifunctional shoes with the LYNNOX LO, but now is taking it a step further with a waterproof version of this all-rounder. The result is a comfortable multi-talented model with a dash of new technology that ensures perfect performance.
When it comes to fit, the LYNNOX GTX® LO sets new standards achieved with the innovative Gore® Invisible Fit technology. With it, the waterproof laminate is applied directly to the flexible fabric material. This reduces water absorption and ensures a quick-drying product. With its perfect adaptation, wrinkles and unevenness are eliminated and thus pressure points decreased. Also, the LOWA Trail Trac outsole lends optimum support. Ideal requirements for untroubled hiking and running pleasure as well as everyday comfort.
Finally, the search for a true multifunctional shoe has come to an end. Minimal weight paired with performance characteristics and a unique fit make the do-it-all LYNNOX GTX® LO and the LYNNOX GTX® LO Ws a go-to companion for every outdoor adventure – from easy hiking to even short stretches of running.