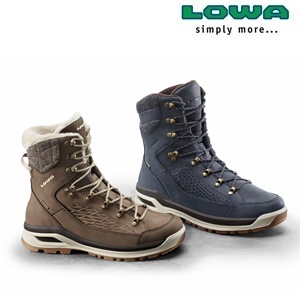 When speaking of 'evolution', in first order one thinks of the continued application of good characteristics to be able to adapt changes in the best possible manner. This very scenario has been a stylish success in the RENEGADE EVO ICE GTX® winter model. This trendy boot is the result of continued improvement of a well-known classic. This comfortable shoe keeps feet warm on wet and cold days and, thanks to its innovative sole, offers the optimum in secure footing on slippery surfaces.
It is not for good reason that the next generation of this classic classifies as one of the top models in the winter footwear category. The reason is the new VIBRAM Arctic Grip outsole, which has a positively claw-like grip on snow and ice. For additional stability and top comfort, you also have the supportive LOWA MONOWRAP® web construction as well as the direct injection-moulded PU midsole. To ensure feet stay reliably dry in any weather and cosy warm even in crisp temperatures, these winter boots are made of a durable leather and lined with GORE-TEX® Partalana.
That the RENEGADE EVO ICE GTX® is no typical winter boot is clear on first glance. The subtle derby design with classic shoelace hooks promises a stylish entrance — whether on a wintry shopping street or on an excursion through the countryside covered with deep snow.