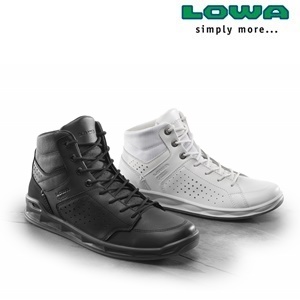 If you stroll along shopping passages in the wet and cold autumn and winter, you come across rainy weather outside and arid-dry heated air in the shops — without breathable footwear, most certainly not a lot of fun. With the all-rounders SAN JOSE GTX® MID and SAN JOSE GTX® MID Ws, lengthy shopping excursions are not a problem any more.
Stylishly quite up-to-date, wonderfully light, and with outstanding temperature regulation and comfortable wear: The SAN JOSE GTX® MID brings together a multitude of advantages in a leisurewear sneaker. For this new free-time boot, LOWA has turned again to the innovative GORE-TEX® SURROUND™ technology which always lends unique climate comfort even on autumn days. Thanks to the open but completely waterproof sole construction, feet can always fully breathe. Ideal comfort is therefore a given. Aesthetic highlights are provided by lateral perforations and a soft fabric collar. This makes the casual all-rounder an ideal travel companion for spur-of-the-moment outings in wet, cold weather or short holidays in far-flung countries during the transition between seasons.
Whoever does not want a mood dampened by less-than-ideal weather simply slips on the SAN JOSE GTX® MID. This free-time boot with a sneaker look guarantees a good mood — from either the casual design or its outstanding comfort.