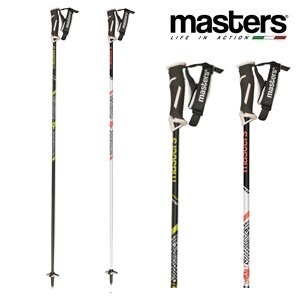 The Special Series – launched with the SS2018 collection – has been enriched with the Juko® line, introduced only for the winter models: to emphasize the forty years we have spent promoting the quality and service that sets Masters apart in the world, we have dedicated the GEO model to those who share our values and our way of being, and are thus a part of the "Masters family". Nations, many of them, which form a world made of relationships, friendships, union and growth.
The name was chosen jointly with our current distributors, specifically considering our widespread distribution throughout the world.
Its strong, 14 millimetre diameter, 7075 aluminium alloy tube is available in two colour variants: metallic black and shiny white to contrast the colours of the silkscreen; white/fluorescent yellow in the first version and black/red in the second. The Geo Black model is particularly technical and modern while the Geo White model is defined and elegant.
Available from 105 to 135 cm long.
The Rapax grip with click glove for quick release, the tungsten the tungsten-tipped support and the threaded black & white Gryphon basket give these models their intrinsic importance: quality details for the best performance required by skiers who are seeking the product that can set them apart on the slopes!