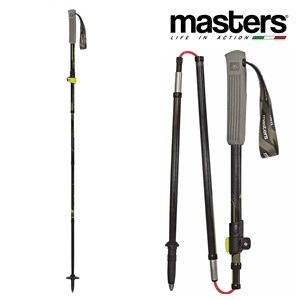 Top of range for foldable poles, this model has been developed for experts and their extreme trail-running adventures! The rope can be easily tighten making the adjustment of the plastic tool placed into the ending section: just turn it and you won't feel any vibration anymore. One size strap lost its buckle and some grams as well as the anodized aluminium alloy 7075 tip support.
Shafts: high modulus carbon 100% 3k
Sections: 16/14/12mmx3 diameter
Grip: Falco handgrip and a single size light strap with a "silky" feel
Tip: the support of the tungsten tip has been realized in anodized aluminium alloy 7075 and insert into the screw plastic system (50mm basket included)
Blocking system: Clamper external closing system and push/pull system
Measure: 35cm closed – from 110cm up to 130cm size range once opened
Weight: 195 gr./piece.