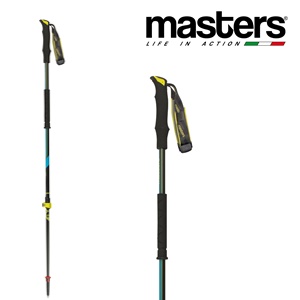 Ultra-tour: Is ski-mountaineering your deep passion? That's what you are looking for! Model Ultra Tour is a telescopic pole in two sections of poles in Calu® (our worldwide exclusive for this aluminum alloy core with a carbon coat) with 16mm and
14mm ø.
Palmo – a soft touch grip – and an extra long foam allow you to hold the pole at different height without working with the Clamper blocking system. Neoprene strap is very comfortable, without using gloves too.
Tip support is equipped with RBS® system: lifting up the red ring, you'll be able to replace a different basket , depending on the terrain where you are going to hike. Carbide tip will guarantee a hard grip to icy or stony terrain.
Weight: 238 grams per piece.
Measure: 86 cm closed – 140 cm max extension.