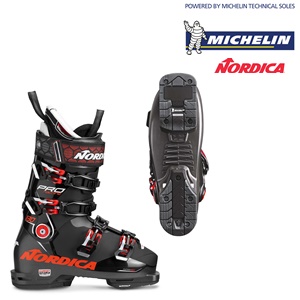 ALL-MOUNTAIN SKI BOOT WITH A MICHELIN GRIPWALK SOLE
For all of those who are ski-addicted, love the slopes, but at the same time are ready to prove themselves in different situations because challenges are part of their DNA, Nordica created the perfect product: it's called Promachine, it has the power of Dobermann®, but the lightness, the versatility and comfort of a 98 mm All Mountain boot, as a real member of the Machine family.  Grit, willingness to overcome their own limits, to feel the thrill of the speed under the ski. The Michelin soles offer unprecedented grip and stability from the forefoot, through the metatarsal to the heel. The new, fully integrated GripWalk toe and heel system provides matchless Michelin traction on snow, ice and almost any other surface skiers might encounter when they ski the whole mountain.
From September, these skiers already look at the weather waiting for the first snow to fall and have only one thing in their mind: skiing, skiing and skiing. 8.00 AM, already at their third coffee, waiting for the chairlift to open and then drawing curves until last run, until the last ray of sunshine hides behind the top of the mountain.  Thanks to the Tri-fit technology, this boot is completely customizable from the shell (with the Infrared system) to the Cork liner, up to most of the elements (strap, cuff, etc). Another Machine has entered into the Nordica home, ready to master the slopes, with the competition in its genetic make-up, and a precise goal: satisfying High Performance skiers, looking for the highest level of performance in any situation without sacrificing comfort.  25% lighter, 120% more powerful. The numbers speak for themselves: thanks to the use of lightweight materials, a new anatomic shell equipped with the Tri-Force Frame system, the Promachine allows you to perform with agile and fluid movements, ensuring optimum levels of comfort, transmitting energy directly from the foot to the boot. The plus is given by the opportunity to customize the boot: Infrared technology allows to model the shell, while the Cork Fit liner can be heated for a perfect fit on the ankle and the heel. Waterproof against cold and humidity, the Promachine are equipped with the Isotherm system that ensures heat to the feet.