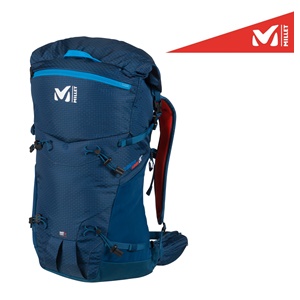 Committed to the vertical realm, this new mountaineering backpack is a featherweight (850g) and seriously streamlined, majoring in crag activity. Besides being ultra lightweight and offering the maximum strenght of a new peak-performance fabric, it opts for the freedom of a fully removable hip belt and maximum volume compression, courtesy of an innovative roll-up closure system. Unfailingly compact on the back, it i salso seriously functional on routes, with: 2 minimalist ice-axe holders, a rope carrier in the upper section, 2 handles for easier hauling to belays, and 3 easy-access pockets.
Features:
Tessuto esclusivo: materiale esclusivo Robic con Dotted Line
Volume espandibile +10L
Chiusura Rolling Closure: protegge e comprime
Porta piccozze FPP
Colours:
Poseidon
Red
Fabrics:
Robic N/NP 210D Honey Comb // 100% PA // WR(C6) & Pu 1,000MM
N/570-840D Cordura Lite Plus Fabric OX // 100% PA // WR(C6) & PU 1,000MM
P/600D Oxford74T // 100% PES // WR(C6) & PU 1,000MM
N/100D + Span 840D Darington // 100% PA // WR(C&) & PU 1,000MM.