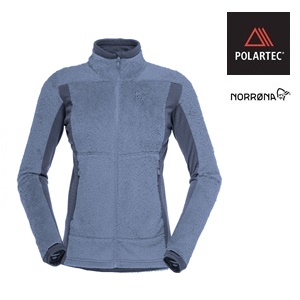 The falketind Thermal Pro HighLoft Jacket has the highest warmth-to-weight ratio in our falketind collection. With its great breathability and durable material, this warming layer will provide you with
comfort and insulation during all seasons. The unique Polartec® ThermalPro High Loft fabric provide great warmth while keeping the weight down. The jacket can be worn as an outer and inner
layer. The Polartec® ThermalPro High Loft ensures warmth and moisture transportation inside your shell jacket while the open knit fabric provides great breathability and fast drying properties when worn as a weather facing garment. It is the most packable falketind fleece and has Polartec® Stretch sides and underarms for good flexibility and a good fit.
MATERIAL POLARTEC® THERMAL PRO
RECYCLED POWER DRY
WEIGHT 240 GR.
SIZE S-XL