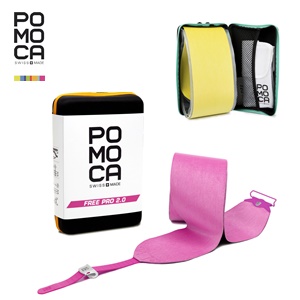 To avoid waste, POMOCA has designed a multifunctional box. The new POMOBOX keeps its primary function of protecting and delivering skins, and can then take on a new life according to the imagination of its user. Whether it is to carry skin waxing equipment, carry glasses or turn into a toiletry bag: anything is possible! Indeed, thanks to its new rigid design with a zipper, the new box becomes a useful and practical
object for the buyer.
In addition, the presentation and the storage of the product are made easier. Now two options are available: hang the boxes on a display using the integrated strap or simply pile them up on top of each other. The boxes are also available in 3 different sizes to suit each skin model.
The POMOBOX is the last stage of the production. Thanks to the "Track your skin" program, is possible to discover all the productions stages of the skin up to its packaging.
To do this,simply insert the serial number here: https://www.pomoca.com/track-your-skin
• Reusable
• Available in 3 sizes
• Easy storage and display