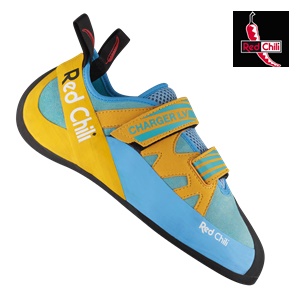 The same fit and the features of the CHARGER,only for less voluminous feet, that`s what the CHARGER LV has on offer! Batteries are empty? Take your CHARGER and get your energy back! Whether gym or crag – the CHARGER is your comfortable partner for long training sessions without sacrificing performance.Thanks to a unique reinforced toe-area this model is super durable and won`t let you down any time soon.May the energy be with you!
Last: flat, symmetricshape, lowvolume-speciallydesignedfornarrowerfeet
Closure-system: Dual-VCR Entry
Color: blue/ yellow
Weight: 520 g (pair) / sizeUK 7
Tongue:one-piece, soft meshmaterial, breathable
Toe-box:Duralast–super durable due toa reinforcedtoe-area, linedtoe-box
Heel:Impact Zone shockabsorber
Footbed:leather
Upper:leather, comfortablefit
Sole:Red Chili RX-2 rubber4.5mm
Sizes:UK 3-12 | US 4-13.