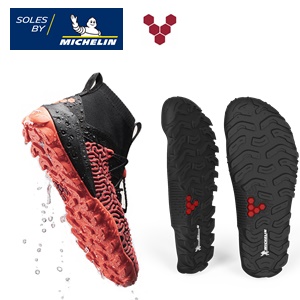 Designed to seamless perform on both land and sea, Vivobarefoot developed an algorithm that mimics natural growth patterns found in oceanic 'brain coral' structures. This distinctive pattern was used to create a lightweight cage that achieves breathability, flexibility with protection allowing water drainage with every step on land or stroke in water. True to the Vivobarefoot minimalist design ethos, this structure uses minimal amounts of materials to maximise durability, performance, quality and that tipical vivo-bare-footwear feeling.
The sole is designed in partnership with Michelin, blending their technical expertise with Vivobarefoot's focus on a natural foot shape to create the lightest, fastest and grippiest rubber on the planet, so your feet can stick to the earth at every step.
Swimrun is a discipline in which the sole plays a leading role. Unlike other sports with only one type of terrain, swimrun requires a tread pattern that enables maximum performance on different types of dry terrain – asphalt, trail, sand – both in wet and dry conditions. That's why the sole, co-developed by Michelin Soles and Vivobarefoot, thanks to the sticky compound guarantees high performance and excellent adherence on low-friction surfaces in wet and dry conditions.
The specific tread design, developed exclusively for the brand, allows major traction, adherence and adaptability to different terrains, including the most irregular ones. It's all a game of synergy between the different sculptures of the sole.