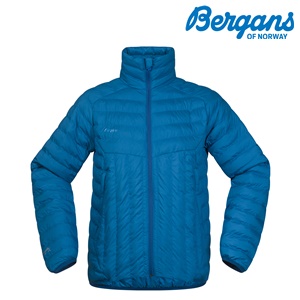 Feels like down and looks like down – but it dries faster and provides insulation even when wet! That's Air Flake®: a synthetic fibre made from a polyester yarn that is as soft and comfortable as down, but has a number of advantages of a synthetic fibre, such as a very high breathability and reversibility. The Strandåtind AirFlake Jacket from the 2016/17 season, a light and warm jacket for ski touring or for wintry mountain tours, uses this new insulation technology as a filling material. The stretchy outer shell of this light and warm jacket is windproof and water-resistant. Bergans is the first brand to introduce Air Flake®, which was developed in Japan, in Europe, thus filling the gap between classic down garments and traditional synthetic fibre materials. Air Flake® has a lot of loft, but unlike down it is processed as a continuous insulation layer. Anyhow it can be compressed and recovers well. Despite the typical chunky down look, the jacket also features vertical chambers, which lends the Strandåtind a very special look. Its classically discreet design makes it the perfect companion for wet and cold outdoor
tours or for your daily commute to the office.

FEATURES:
Fabric: 100 % polyester
Insulation: Air Flake®: 100% polyester
Fill weight: 60 g/m²
Weight: Women S: 940 g, Men L: 1,230 g
Sizes: Men S-XXL, women XS-XL
Price: € 270
Strandåtind is a prominent rock ridge on the island of Kjerringøy north of Bodø and a classic among Norwegian mountaineers. Following a challenging climb, the
mountaineers can enjoy magnificent views across the Lofoten and all the way to Sweden.