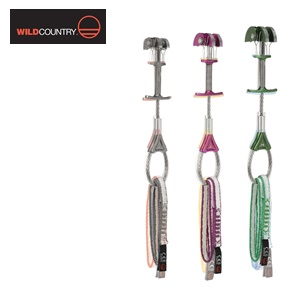 Introducing the new Wild Country Zero Friends for solid holding power in small placements. The ultimate weapon for thin cracks, pockets or peg scars on cutting-edge climbs and extreme adventures. This micro version of the iconic Friend has one of the most narrow heads on the market, which means it fits nicely in shallower grooves with its slightly adapted version of the definitive (17,6°) constant camming angle.
On the 0.1 and the 0.2, the head is just 27.9 mm, while on the others is 29.2 mm. Engineered with a single axle, stainless steel termination swage, and one of the best expansion ranges going, it comes in six sizes for simpler racking and faster selection. We machine the hot-forged, raw-finish, aluminium alloy lobes with a radical design to ensure maximum rated strength values, minimum weight and reduced walking.
-6 sizes for simpler racking and faster selection
-Narrowest heads width on the market
-Effective flexible stem
-Extendable dyneema sling
-Soft, long-lasting aeronautical aluminum alloy and non-anodized lobes
-17,6° Constant camming angle:
Perfect for small placements
More expansion ranges on the smallest sizes
Equal power distribution.