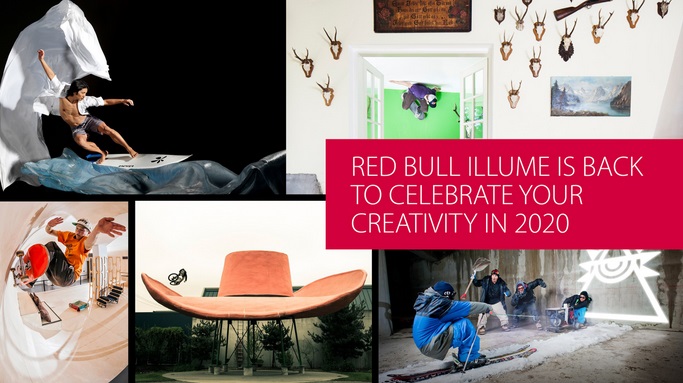 A contest for adventure and action sports content creators to celebrate their creativity in 2020 on Instagram.
Red Bull Illume keeps bringing you the world's greatest adventure and action imagery with a new contest starting on June 1, called Red Bull Illume Special Image Quest 2020. It is a celebration of the outstanding feats of creativity coming out on Instagram during 2020. Red Bull Illume wants to showcase the passion and dedication of photo- and videographers pushing the boundaries of content creation.
The Special Image Quest 2020 has three categories you can submit still and moving images into, as well as a fourth and totally new one which calls for the most creative adventure and action sports stories.
How does it work? Photo- and videographers can enter their best still and moving content (up to 1 minute) into any of the three categories:
Throwback. Content that compares adventure and action sports from then and now, together in one image.
Homework. Show your most creative adventure and action sports content made anywhere in or around your home.
Unseen. Content that reveals an exceptional angle, a visual idea, a different format, light and flash effects… something never seen before! It's the purely creative content.
How to enter. To enter the Throwback, Homework, and Unseen categories follow these easy steps:
Share your still and moving images (up to 1 minute) on your public Instagram feed.
Tag @redbullillume, use the hashtag #rbi20submission and the category, e.g. #rbi20throwback
Tag a friend to invite him to take part as well.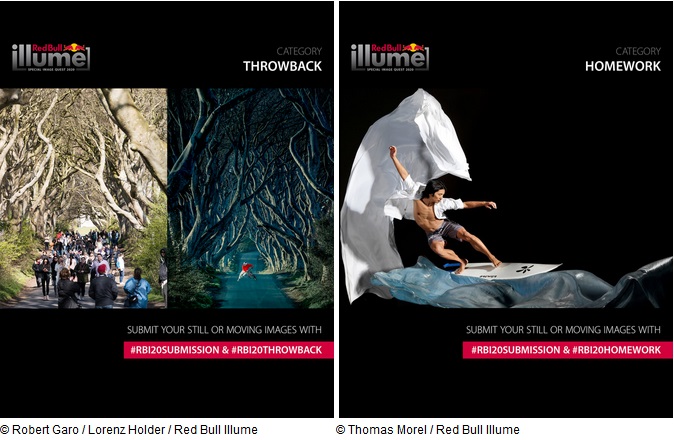 New category for Instagram. For the first time ever, there is a category specifically for Instagram stories. It's the category with the most freedom, giving creators the chance to tell a story the way they choose. Each submission can consist of up to 6 stories. These will need to be added to the Highlight tab to ensure Red Bull Illume can see them.
Storytale. Use up to 6 individual Instagram stories and show your jaw-dropping adventure and action sports content from behind or in front of the camera. Get inventive because nothing is off limits.
To submit an Instagram story into the Storytale category follow these steps:
Share your Instagram story and tag @redbullillume and #rbi20submission. Make sure your profile is public and that the tags are visible but not prominent, after all it's about your story.
Each entry can have up to 6 Instagram stories.
Add the entry to 'Highlights' with the title 'RBI 2020'
To submit another entry, just upload your Instagram Stories and add them to a new Story Highlight in your profile and add a number to the Highlight title e.g. 'RBI 2020 #2'.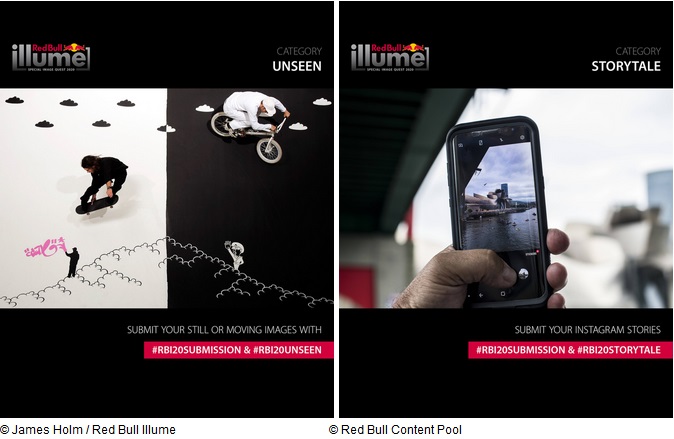 It doesn't matter whether you are a professional photographer or a first-time content maker, it's the idea and execution that counts. The competition runs for 5 weeks from June 1, 2020 at 00:00 CET until July 5, 2020 at 23:59 CET. The Red Bull Illume jury will select the 5 best still and moving images per category, plus the 5 best stories every week. This selection will be displayed on redbullillume.com where the community will have the power to vote for their weekly finalists in each category.
The community voting takes place every week from Thursday to Sunday. The first round of voting is open from June 11 till June 14, 2020, during the second week of the submission phase. The weekly winners will be announced every Monday after the voting has closed.
Winners & Prizes. An external panel of judges comprised of photo editors, digital experts, and world-renowned athletes will then select the category winners and thereafter the overall winners. Yes, there will be more than one overall winner because still and moving content will be adjudicated separately. Each category (with the exception of Storytale) will have a moving image winner and a still image winner, resulting in: 1 Overall Still Image Winner, 1 Overall Moving Image Winner, and 1 Overall Storytale Winner. The winners will be announced on July 30, 2020.
The overall winners will earn the title of being an official Red Bull Illume Winner and receive an out of this world experience from Red Bull. The winning content will also be added to the Red Bull Illume Exhibit Tour that's currently travelling all around the world, providing great exposure for anyone passionate about the creative and adventure and action scene.
With everything that is happening there has been a surge of creativity coming out of the world, Red Bull Illume wants to share the amazing work and inspire others to think big, and most recently, think big with less.
Get ready to show the world your adventure and action creations! Start by checking out your existing 2020 footage or finally making that content you've been thinking about because submissions open on June 1, 2020.
Download all the images and promotional tools right here!
Stay tuned to Red Bull Illume and follow us on your favorite social media channels to get the latest news.