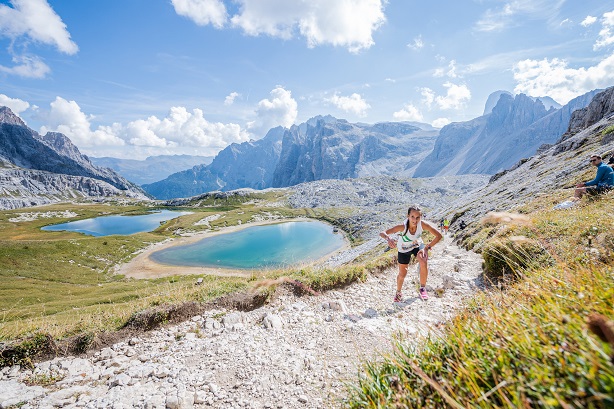 The Südtirol Drei Zinnen Alpine Run is celebrating its 25th anniversary! On Saturday, 10 September, another 1000 enthusiastic mountain runners will brave the start at Casa Sesto in the centre of Sesto (Italy) to tackle the 17-kilometre route up to the Rifugio Locatelli with 1333 metres of elevation gain in the Dolomites UNESCO World Heritage Site. As part of the anniversary edition, a new face will preside over the dedicated organising committee of the ALV Sextner Dolomiten.
Alfred Prenn recently took over the office of President from Gottfried Hofer. Mr Hofer had been responsible for the running of the renowned mountain running event for more than a decade and has now decided to take a step back. "Under the leadership of Gottfried Hofer and with the help of his team, the Südtirol Drei Zinnen Alpine Run has developed into a world-renowned event that in the autumn of 2019 even counted as a stage in the World Cup. He has always carried out his work in an exemplary manner and with tremendous passion. I know that I have some very big shoes to fill. For me it is therefore a great responsibility to take on this office and I am glad that we can continue to count on Gottfried Hofer's expertise and support," his successor Alfred Prenn said in praise of the former OC boss.
New President Prenn and his dedicated team have already begun preparations for the 25th edition of the Südtirol Drei Zinnen Alpine Run. In keeping with the anniversary, registration opened on Tuesday, 25 January. For logistical reasons, the number of participants is once again limited to a maximum of 1000 mountain runners. To celebrate the quarter century in a fitting manner, the organisers have also come up with something special: Every 25th participant who signs up for the Drei Zinnen Alpine Run will receive a surprise gift.
Registrations follow the motto: "It's the early bird that catches the worm". For all those who register by 31 May, the registration fee is 75 EUR. From 1 June to 31 August the fee is 85 EUR. If there are still places available after that date, the registration fee from 1 to 8 September is 95 EUR.
The team is currently working on the supporting programme, the variety of which will of course also depend on further developments regarding the pandemic. The trail announced in autumn with a length of around 54 kilometres and 4000 metres of altitude difference will not be offered after all. "For organisational reasons, which are also related to the uncertain situation in the midst of the Omicron wave, we are postponing the premiere of this project by one year," President Prenn said.
Südtirol Drei Zinnen Alpine Run – Roll of Honours
1998:     Marco Gaiardo ITA 1:23.25 / Nathalie Santer ITA 1:49.18**
1999:     Marco Gaiardo ITA 1:23.46 / Izabela Zatorska POL 1:38.20**
2000:     Emanuele Manzi ITA 1:23.22 / Izabela Zatorska POL 1:35.17**
2001:     Jonathan Wyatt NZL 1:19.58 / Anna Pichrtova CZE 1:31.47**
2002:     Jan Blaha CZE 1:46.11 / Anna Pichrtova CZE 2:00.54***
2003:     Thierry Icart FRA 1:47.58 / Ruth Pickvance CZE 2:11.43***
2004:     Jonathan Wyatt NZL 1:40.17 / Anna Pichrtova CZE 1:57.54***
2005:     Jonathan Wyatt NZL 1:40.35 / Anna Pichrtova CZE 1:56.14***
2006:     Martin Ashley Cox GBR 1:45.27 / Anna Frost NZL 2:06.01***
2007:     Antonio Molinari ITA 1:28.54 / Antonella Confortola ITA 1:46.44
2008:     Helmut Schiessl GER 44.50 / Antonella Confortola ITA 53.52*
2009:     Helmut Schiessl GER 1:28.51 / Anna Frost NZL 1:42.59
2010:     Jonathan Wyatt NZL 1:26.23 / Mariagrazia Roberti ITA  1:44.45
2011:     Jonathan Wyatt NZL 1:29.02 / Mariagrazia Roberti ITA  1:51.00
2012:     Gabriele Abate ITA 1:26.16 / Mariagrazia Roberti ITA 1:47.36
2013:     Petro Mamu ERI 1:22.44 / Renate Rungger ITA 1:49.28
2014:     Jonathan Wyatt NZL 1:27.58 / Victoria Kreuzer SUI    1:48.10
2015:     Andrzej Dlugosz POL 1:31.01 / Antonella Confortola ITA 1:48.06
2016:     Petro Mamu ERI 1:02.06 / Sara Bottarelli ITA 1:16.24*
2017:     aborted
2018:     Anton Palzter GER 1:29.31 / Michelle Maier GER 1:42.34
2019:     Petro Mamu ERI 1:22.37 / Sarah Tunstall GBR 1:41.45 (Track records)
2020:     Manuel Innerhofer AUT 1:24.15 / Dimitra Theocharis 1:39.58 **
2021:     Petro Mamu ERI 1:20.56 / Kaisa Mäkäräinen FIN 1:41.11 **
* shorter route, **variant, ***half marathon
INFO: Südtirol Drei Zinnen Alpine Run