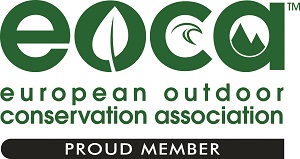 The European Outdoor Conservation Association (EOCA) is delighted to welcome 7 new members and a trade partner, all committed to conserving the great outdoors. All 8 have signed up to the association since the ISPO show in February, a number specifically joining to support the work of EOCA in tackling Plastic Pollution.
The new members to sign up are Sunday Afternoons – creating hats for every outdoor adventure; World of Camping – one of the largest independent online retailers for the camping, caravan and motorhome fraternity; Regatta– making and selling items to enable everyone to get outdoors and have adventures. Within a 24 hours period, Elements – an agent and distributor for a number of responsible outdoor brands in Belgium, the Netherlands, Germany and France; Kahtoola – makers of gear for use with flexible footwear, including MICROspikes®, NANOspikes®, hiking crampons, and innovative running and hiking gaiters; icebreaker– Provider of natural performance alternatives to plastic-based apparel all signed up. E9 – manufacturers of climbing clothing and Accessories, got in touch about signing the EOCA Plastic Pledge and then decided to also become full members of EOCA. In addition, Afydad, the Spanish Sport Association has signed up as a trade partner, thus committing to raise awareness of and commitment to EOCA and conservation of outdoor environments.
Peter Ottervanger, GM Europe of icebreaker said "Given our purpose 'Driven by the belief that nature has the solutions, we provide natural performance alternatives to plastic-based apparel to create a healthier more sustainable future for our species and the planet' it was the next logical step to join an organisation that strives to preserve our natural ecosystems. With the start of EOCA's campaign Plastic-Free: Mountain to Sea, icebreaker found a perfect fit for our purpose."
"We're delighted to partner with EOCA and support conservation efforts in Europe. From youth engagement and community building to climate change advocacy and the protection of wild places, we're proud to fund projects that reflect our core values" enthused Sarah Sameh, CEO Sunday Afternoons.
Sasha Osborn PR & Marketing Executive added "Here at Regatta Great Outdoors, we are doing our best to help look after outdoor spaces. Over the last year we have worked hard to reduce our environmental impact with initiatives like our Honesty project as well as campaigns such as The Million Mile Clean up. That's why we felt joining the EOCA was a great cause to get behind and why we're really excited to be working with the association and it's other members."