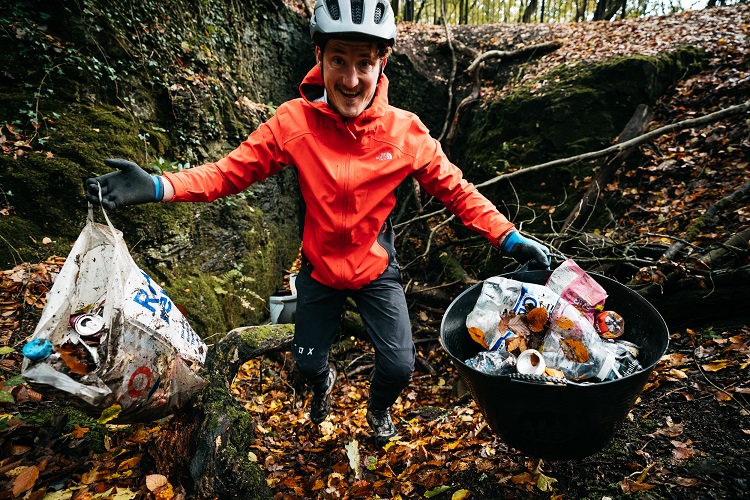 The European Outdoor Conservation Association (EOCA) is delighted to announce that, following its latest funding round, it has surpassed its two year target to clear 3000km of habitat, trail and beach of plastic waste and pollution, clearing a total of 4,183km.
300 million tonnes of plastic are produced annually globally, 8 million tonnes of which enter the oceans each year.  80% of marine plastics originates from land sources and is found on mountains, in glaciers, around crags, along and in rivers and lakes, in forests and on coastlines. In all these locations, it impacts disastrously on wildlife and blighting every type of habitat and landscape enjoyed by outdoor enthusiasts.   100,000 marine mammals and 1 million seabirds are killed every year through entanglement or by ingesting plastic litter.
As an organisation raising money to look after the health and well-being of the planet, EOCA has worked with its members from the European outdoor industry during 2019 and 2020 to clean up plastic waste in habitats, from the summits of mountains to the shores of the seas as part of its Plastic Free: Mountain to Sea campaign.  This has all been done in conjunction with educating and inspiring outdoor enthusiasts and companies to combat plastic pollution issues – not just by cleaning what is already there, but by working to reduce the amount used on a daily basis and to stop it getting there in the first place.  Projects funded have included cleaning coasts, rivers, mountains and lakes across Europe, trialing alternatives to plastic tree guards,  stand-up paddleboard coast, canal and river clearance in Brazil and Germany, mountain biking clean-ups in the UK and Romania, ocean diving and expeditions to clean up shipping cargo and fishing nets in Portugal, Spain and Holland, fishing for plastic in rivers in Colombia, clean-up in the Italian Alps, the mountains of Nepal, the Himalayas and Latin America and the forests and rivers of the Ukraine, all of which have contributed to reaching the target set two years ago.
Added to this, many of EOCA's members have joined in, organising events with their own staff. KEEN has run plastic fishing events throughout the canals of Amsterdam and rivers of major cities across Europe, Nikwax employees carried out a plogging event, the Spring PR team joined an organised beach clean and employees from Icebreaker, the BMC, Regatta Great Outdoors and Walkingontheweb all carried out clean up events.  Finally, ORTOVOX staff undertook a day's litter clearance on Black Friday 2020, all adding extra kilometres to the grand total.
Tanya Bascombe, Joint General Manager of EOCA said, "This is wonderful news as we come to the end of what has been a very challenging year for everyone – not least the projects we fund which rely very much on scores of volunteers joining in to help with their work.  The fact that we have not only managed to reach our two year target in amongst this, but to surpass it so convincingly is testament to the resilience of the conservation organisations and the enthusiasm of those involved.  The original target was to clear varied habitats of plastic pollution equivalent to the distance from Lapland to the Mediterranean coast …. We have actually managed to clear the distance from Lapland to Marrakesh! "
INFO: EOCA