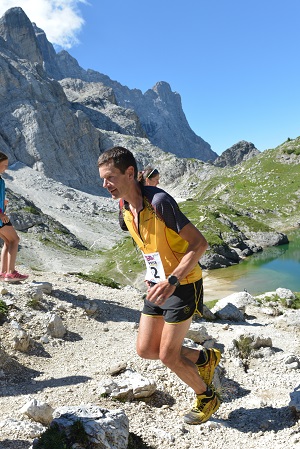 Six-time world mountain running champion, two-time Olympic games athlete in the 5000 metres event and men's marathon race (Atlanta 96 and Athens 2004): these figures alone would be enough to introduce Jonathan Wyatt the runner from New Zealand but with his heart now rooted in the Italian Dolomites, in Valle di Fiemme, the home of La Sportiva since 1928. A passionate runner and marathon racer, during his long and successful career, Jonathan has been able to experiment practically all types of running: track and field, off road, urban roads and hills, with a particular disposition, as his record of achievements indicate, for off-road terrain and mountain running, a discipline which now sees him engaged in the role of president for the World Mountain Running Association.
Married to cross-country skier and runner Antonella Confortola, Jonathan is engaged full time, seven days a week in carrying out projects with a single common denominator: running. Competitions, training sessions, personal trainer activities, consultant for large footwear companies and now officially working alongside La Sportiva's R&D team for the development of the company's trail running products. An almost natural choice for someone who has always been used to trail running along the paths of the Val di Fiemme but which now offers Jonathan a new and exciting challenge. "This collaboration allows us to use the experience of one of the world's top off-road athletes to develop new products even more targeted at the specific type of mountain running discipline such as Sky, Vertical and Trail running. – explains Matteo Jellici, Footwear R&D Manager – Jonathan Wyatt is a great asset to our development team thanks to his experience as a product tester and his ability to understand what the end user needs. His contribution will be crucial in supporting trade marketing too given his proven experience in organizing product clinics and sales support.
"I have always followed the development of La Sportiva's mountain running line with great interest– says Jonathan –in a few years the company has expanded the range of products to include more and more specific models for the different disciplines and they have a very clear idea of what development and innovation means. Here ideas run very fast and it is possible to explore new solutions all the time. The product team works very well together and is always ready to listen to the needs of even the most "curious" of end users. La Sportiva has brought all the know-how of 90 years of leadership, gained in the production of protective and durable mountaineering footwear for all types of terrain, to the world of running. I will try to add to this by introducing my own personal experience gained in person on the field, trying to propose solutions for an even wider range of trail runners.
In addition to the collaboration with the company's R&D and marketing team, Jonathan will also be in the front line with the athletes of the La Sportiva Mountain Running Team helping them to collect feedback, suggestions and tips for continuous improvement. "Here every model is really developed according to the indications given by the athletes – continues Jonathan– we speak and share ideas every day with a strong sense of belonging. This makes my work really special.
INFO: La Sportiva