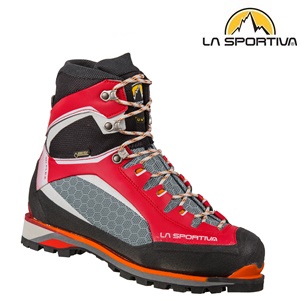 Trango Tower Extreme GTX is the fully crampon compatible mountaineering boot designed for technical use in the mountains on ice and mixed terrain. The uppers use an exclusive high tenacity fabric with mono-bavacon reinforcements differentiated with Honey-Comb Guard™ in abrasion zones. Featuring the aesthetics of the Trango line, weight is kept in check thanks also to the exclusive low volume, La Sportiva Cube Vibram sole. The Gore-Tex Insulated Comfort lining guarantees thermal insulation and breathability, the 3D-Flex System allows for better control on holds. The differentiated lacing system guarantees perfect regulation of volumes for optimal comfort. The Trango series enriches it range with new levels of technical aesthetics keeping it ahead of the times.
Uppers: High tenacity, waterproof, Nylon 6.6 with Honey-Comb Guard™ and FlexTec 3
Inserts: Microfibre + Light PU Thermo-adhesive
Lining: Insulated Performance Comfort
Footbed: Ibi-Thermo insulating 9mm
Sole: La Sportiva Cube by Vibram® with differentiated lugs and Impact Brake System on the heel and climbing-zone at the toe
Size: 36 – 48 including half sizes, woman 36 – 43 including half sizes.
Patent: registered design
Plus
+ Stretch gaiter to protect against the elements
+ Uppers in mono-bava reinforced fabric differentiated with abrasion resistant Honey-Comb Guard™ in abrasion zones.
+ Vibram® La Sportiva Cube low volume outsole
+ Lightweight microfibre inserts and Light PU thermo adhesive for reduced weights and essential design.
+ Full Crampon Compatible.
Focus
+ Lightweight, resistant, steel mini parts with lace lock and differentiate lacing system.
+ 3D-Flex System for mobility of the heel and better control on holds.
+ Protective, abrasion resistant, rubber toe cap.
Logos: Trango Series, GTX, Vibram, 3D Flex, Impact Brake System
New sole cutaway, positioning in the chart between Trango Ice and Trango Alp.