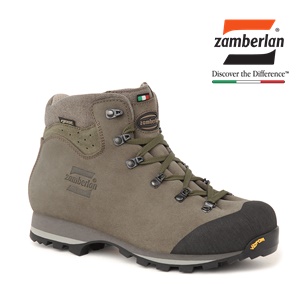 Trekking boot suited to carry light weight backpacks. The single piece upper is made of Perwanger® leather and its waterproofness is improved by the Hydrobloc® treatment. The GORE-TEX® Performance Comfort lining guarantees waterproofness and breathability. It is equipped with a PU toe reinforcement to provide better protection and a soft fabric collar to ensure great comfort on the ankle zone. EVA Wedge to provide lightness, comfort and flexibility and the Zamberlan® Vibram® StarLite outsole ensures high grip also on wet grounds.
UPPER: Hydrobloc® Perwanger® Leather
THICKNESS: 1,6mm – 1,8mm
LINING: GORE-TEX® Performance Comfort
INSOLE: Nylon 3mm + PE
SOLE: Zamberlan® Vibram® StarLite
EVA Wedge
SIZE: Euro 40-48 (c/mezze mis. – incl. Half sizes)
WEIGHT: gr 490 (mezzo paio/half pair – misura/size 42)
LAST: ZBPK performing fit.