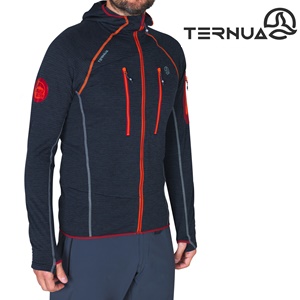 In its 2019 spring summer collection, it's presenting 100% commitment and a PFC free textiles collection. Moreover, 28% of the clothing is made with recycled textiles like carpet, fishing nets, plastic bottles, feathers, coffee grounds, wool or walnut shells, 61% has Bluesign certification and 22.8% uses organic textiles.
Dulau Jacket: very versatile jacket made of Warmshell Eco fabric.
• Fabric from the re- cycling of used plastic bottles.
• Natural S-Café antibacterial treatment to prevent odours.
• Very warm and breathable.
• Absorbs the sweat and expels it to the outside.
• Quick-drying.
• Articulated pattern for greater freedom of movement.
• Chin protector.
• Two pockets with zips for the hands.
• Patch pocket with zip on the left sleeve.
• Adjustable waist with drawstring and cord lock.
• Cuff with thumb hole.
• Flat seams.