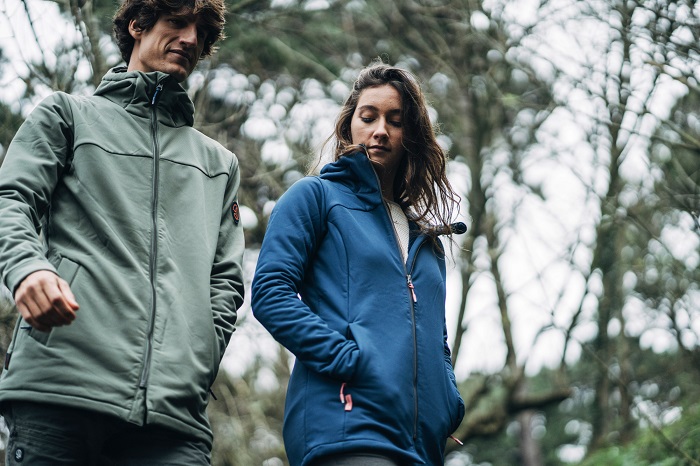 Designed for the everyday lives of people who want to connect with nature while wearing sustainable and multi-use clothing, Spirit Outdoor has garments with a unique design that sends several messages about protecting the environment. In the 2021-2022 autumn-winter collection Ternua has included garments made with sustainable and highly innovative materials, including new textiles and fillings.
From jackets with Stormfleece Pro textile that provides protection from wind and water at the same time without losing transpirability and that barely loses fibers when it's washed (WINDGI JKT) to jackets with Fellex Eco filling that is an alternative to down and that comes from post-industrial waste (MIRBO JKT) including sweaters with recycled eco merino wool (DANGALI and BENALLA) and pants made from hemp, a plant based textile fiber that is soft and very strong.
The garments in this line that come from their unique projects are also notable. The projects include REDCYCLE (2015) that used recycled abandoned fishing nets from the Cantabrian sea that Ternua has used to make insulating and thermal jackets (MURRAY JKT) and pants that are in the Autumn Winter 2021 Spirit Outdoors line. In addition to NUTCYCLE (2018) for recycling walnut shells from cider houses in Gipuzcoa that the brand has used to design naturally dyed t-shirts, and that has also evolved to use other non-edible agricultural waste like olives, beets and chestnut shells, to provide garments in soft earth tones that are environmentally friendly (MALBON T SHIRT). Another project that has a presence in this line of clothing is SEACYCLE (2019), in which Ternua recovered sea plastic that, when mixed with recycled PET plastic, was used to create a series of high quality t-shirts (DOBBYN T SHIRT). And, lastly, ARTILESHELL (2020) is an initiative through which Ternua has given a second life to wool from latxa sheep (native to the Basque country) and turned it into a lightweight, compactible filling that regulates the temperature, including in urban style jackets with a message (WILLOWS JKT).
All the garments that have a water repellent treatment are PFC free, that means they have no environmentally toxic substances. That is something Ternua has been doing since 2018 when they became the first Spanish outdoor brand to completely eliminate PFCs from their water repellent treatments.
It's clearly a collection with a unique and casual personality that includes highly functional, multi-use and sustainable clothing that protects people and the environment at the same time. Already available at sales points.
INFO: Ternua