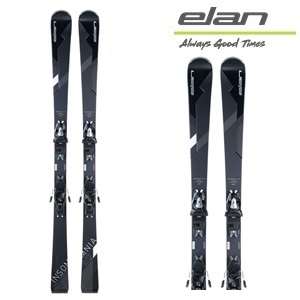 Providing all day energy and fun at the mountain
Getting the most out of your equipment, allows you to get the most out of your day. With the Elan Women's All Mountain skis, you can count on them anywhere and everywhere you take them on the mountain, from first chair to last.
Made with Elan's strategically shaped Amphibio technology, every turn is entered with ease and exited with power for unrivalled all-mountain performance, power and versatility. Topped with the free- flex Power Shift bindings, skiers are fueled with a constant source of energy and precision all day long.
Queen of the piste
The crown-wearing queen of power, precision, the Insomnia Elite is packed with edge- to-edge quickness, stability and carving capability all of all turn shapes. This endowed prodigy is guaranteed to leave arcs in the corduroy, no matter the shape or speed of your turn.
The Insomnia Elite is built with the most advanced women's asymmetrical ski design, Amphibio Truline W Technology. The foundation is a leaner, more agile profile, allowing for quick, smooth turn perfection.  Structural reinforcement is strategically placed over the full length of the inside ski edge, providing more confidence and stability to power the turn. The agile, yet lean-but-mean, 71mm waist-width ski is designed to optimize the input from the energy of the skier to create an output of strength, quickness and grace in every turn in all conditions found on the mountain. The Amphibio Truline W Technology compliments the skis' laminated wood core and single layer of Ti for a powerful rebound with uncompromised grip.
CODE: ACBGJX20
PROFILE: Amphibio
TECHNOLOGY: TruLine Technology, RST Sidewall, Laminated Woodcore, Mono Ti
GEOMETRY: 121/71/102
LENGTH RADIUS: 146 (10.9), 152 (12.3), 158 (13.3), 164 (14.6)
SYSTEM/PLATE: Power Shift
BINDING: ELX 11.0 GW SHIFT BLK/BLK.