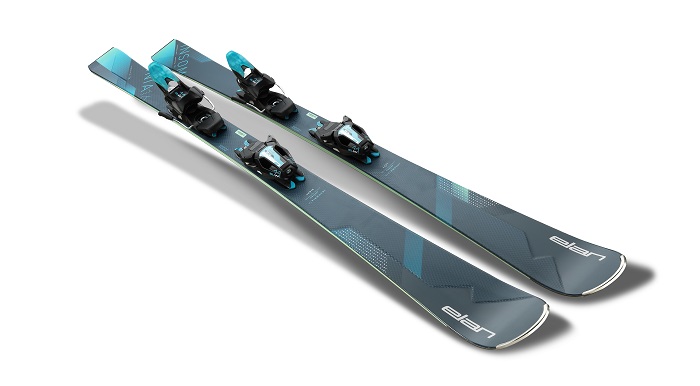 Elan and their women's program, the W Studio, unveils a new all-mountain Insomnia collection. Focusing on high performance on groomed, on-piste and all-mountain skiing, the Insomnia skis allow female skiers to get the most out of their equipment, allowing them to get the most out of their day on the mountain.
From first chair and freshly groomed corduroy to last chair and variable conditions, the Insomnia skis are refined and tuned for perfection. Made with Elan's strategically shaped Amphibio technology, structural reinforcement is strategically placed over the full length of the inside ski edge for power, stability and confidence when entering the turn. Meanwhile, the narrower waist-width optimizes the input of every turn for an output of grace and smoothness when exiting each turn, providing stability and confidence and on piste versatility for the resort skier. Featuring the free- flexing Power Shift bindings, the skis are amplified with a constant source of energy and precision all day long.
Sitting at the top of the top line, packing a ton of power and precision is the Insomnia Elite demonstrating edge-to-edge quickness, stability and carving capability through all turn shape. The amplified Amphibio Truline technology gives the skier a more stable, yet playful and agile feel. Finished with rich designs, silver details and dark bases, the Insomnia Elite is modern and fashionable.
INSOMNIA ELITE
Dimensions: 121/71/102
Lengths: 146, 152, 158, 164
Profile: Amphibio
Technology: Amphibio TruLine Technology, RST sidewall, Laminated Woodcore, Mono Ti
Binding system: Power Shift.
The Insomnia Elite is followed by the Insomnia 16, 14, 12 and finishing out the collection with the Insomnia 10. The Insomnia 10, positioned to be a leading value ski, still still features top of the line technology with a laminated woodcore, sidewall and Amphibio Truline Technology.
INSOMNIA 10
Dimensions: 127/76/104
Lengths: 144, 150, 158, 166
Profile: Amphibio
Technology: Amphibio TruLine Technology, RST Sidewall, Laminated Woodcore
Binding system: Power Shift.
INFO: Elan