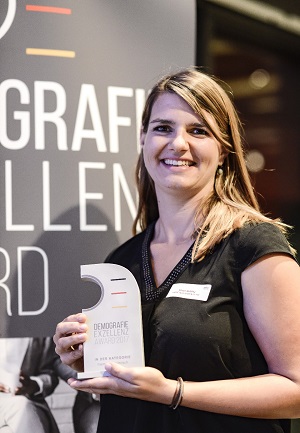 On August 31st, VAUDE was honored with the renowned Demography Excellence Award 2017 in the category "fremd & heimisch" (foreign and familiar) for its commitment to refugees. VAUDE Personnel Manager Miriam Schilling proudly accepted the award at the Hotel InterContinental in Berlin. For years, the outdoor outfitter from Tettnang has been actively supporting the integration of refugees entering the workforce, providing them with professional opportunities. Currently VAUDE has provided nine refugees stemming from seven countries with permanent positions.
A few hours before the award ceremony there was an exciting finale: The nominees presented their projects to the prestigious jury whose final decision would be announced later in the evening. VAUDE prevailed against the strong competition in the category "fremd & heimisch". "We are proud to have this serve as a flagship project and inspire others. And we're pleased to have our commitment recognized and appreciated. Especially against the backdrop that we are currently facing: fighting against the expulsion of our refugees. It would be a major loss for us, both professionally and on a personal level," said Miriam Schilling.
Aside from VAUDE, the Deutsche Bahn AG, Siemens AG, as well as the Diakonie Werk of the Evangelische Landeskirche Baden e.V. were nominated for the award in the category "fremd & heimisch". All projects were focused on integration, migration, intercultural approaches and the related challenges these issues pose to society, the labor market and employee structures.
VAUDE offers refugees professional prospects
VAUDE is dedicated to facilitating social integration for refugees and providing them with professional opportunities. With sewing workshops and internships, the company offers insight into what it is like to work in Germany. In October 2016 VAUDE organized an Open House for refugees who took the opportunity to become informed about job opportunities at VAUDE and had a chance to participate in job application training sessions. Since then, the southern German family-owned company has provided nine refugees stemming from seven countries with permanent positions. Starting this year, VAUDE has offered a German language course free of charge to its employees in order to facilitate integration on a linguistic and cultural level.
The Demography Excellence Award
The mission of the Demography Excellence initiative is to tackle the challenging consequences of demographic change. A primary focus is the Demography Excellence Award. With it, companies and other organizations are honored for flagship projects that take on the corporate, personnel and product policies of a changing demographic. The award has been presented since 2009, initially by the Forum Baden-Württemberg of the Bundesverband Deutscher Unternehmensberater BDU e.V. and since 2013 in cooperation with the Demographie Netzwerk e.V.(ddn). This year awards were given out in 11 categories.
More information on the Demography Excellence Award 2017 here.
INFO: VAUDE