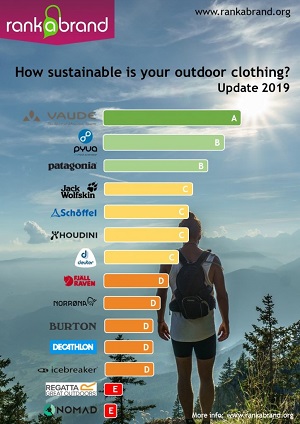 Leading position for VAUDE in the sustainable consumer portal, Rank a Brand
VAUDE has achieved the highest rating for a 1st place finish by the international comparison portal Rank a Brand for their Outdoor Ranking 2019. Within the assessment, 14 outdoor brands were examined on the basis of a catalogue of questions relating to climate protection, environmental protection and fair working conditions. VAUDE demonstrated a high level of commitment in all areas and scored highest in the ranking. "VAUDE sets the standard", was the conclusion of Rank a Brand. "We are really delighted about this fantastic rating, because Rank a Brand raises awareness and provides orientation for end consumers. A growing number of people want to know the conditions under which products are manufactured before they buy them. Rank a Brand contributes significantly to this goal," said Antje von Dewitz, VAUDE CEO.
The outdoor industry exemplifies a close relationship with nature. Rank a Brand took this as an opportunity to question how environmentally friendly and fair the production methods of the individual manufacturers actually are. Based on a specific questionnaire, 14 outdoor brands were analyzed, compared and evaluated. In early April, these brands' results were published in the form of a comparable ranking.
VAUDE was the only brand to receive the highest "Label A", which indicates that at least 75 % of criteria were met. VAUDE achieved top scores in areas such as climate protection, environmentally friendly production and fair working conditions in the supply chain. The jury also emphasized that VAUDE is one of the few brands to publish a carbon footprint.
Rank a Brand's summary for VAUDE was as follows: "Vaude has achieved the A-Label. We therefore highly recommend Vaude's jackets, pants and other outdoor & sports clothing. Vaude scores points with their use of renewable energy. Regarding environmental protection, Vaude scores points for their collection that is partly made of environmentally friendly materials and / or bluesign® certified, and for their packaging and waste policies. As a member of the Fair Wear Foundation (FWF), Vaude is actively involved in improving the working conditions for its suppliers and reports transparently on the results."
Rank a Brand. Rank a Brand is an independent and international brand-comparison website that assesses and ranks consumer brands in several sectors on sustainability and social responsibility. The goal is to find out how responsible manufacturers are with natural resources. The platform also examines the extent to which social grievances, particularly in emerging and developing countries, are addressed during production and trade. The ranking is categorized into five "Label levels": A, B, C, D and E. An "A-label" ranking, for example, requires that at least 75 % of the criteria must be met. Rank a Brand's aim is to raise awareness: for brand manufacturers – of corporate responsibility and transparency. For consumers – of sustainability and its influence.
INFO: VAUDE