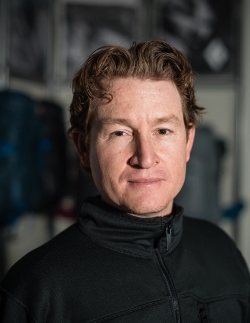 Patagonia today welcomes Ryan Gellert as its new General Manager in Europe, responsible for the company's growing business across European markets as well as the Middle East.
Gellert comes to Patagonia  from Black Diamond, Inc., where he spent 15 years in various roles, including Brand President, VP of Supply Chain Management and Managing Director of Black Diamond Asia. He's an avid climber and backcountry snowboarder, having climbed & ridden throughout Asia, Europe, North America, Australia, the Middle East and South Africa, and he currently serves on the boards of the Access Fund and Protect Our Winters.
"We have a strong and dedicated team of people working in Europe and Ryan is a natural fit to move our business forward," said Patagonia  CEO Rose Marcario.
"Ryan is a dynamic leader with a strong industry background and the right person to lead the team in Europe," said Patagonia Vice President of Global Sales John Collins. "As a climber and backcountry enthusiast, Ryan understands our core customer, and his work with direct action environmental groups is aligned with our mission and values."
"I am excited and honored to join Patagonia," said Gellert. "In addition to being an exceptional brand with an extraordinary team, Patagonia's consistent leadership on issues of sustainability has long been inspiring. I look forward to working closely with the Patagonia team and its partners throughout Europe."
Patagonia recently reorganized in Europe to build out an even stronger regional presence – especially in areas with critical relevance to snow sports, alpine climbing, fly fishing and surf. Central functions moved to Amsterdam to position the company for better pan-European awareness from a business and environmental perspective.
Patagonia has long supported environmental activism in European Countries. Patagonia has donated 1 percent of its revenue in Europe to grassroots environmental groups since 1990, including grants made to 159 different European organizations in the past five years.
Gellert holds a J.D. from the S.J. Quinney College of Law at the University of Utah; an M.B.A. from Florida Institute of Technology; and a B.S.B.A. in finance from the
University of North Carolina – Charlotte.
Gellert takes over from Stefan Whalen, who led Patagonia's European business for two years, including the recent restructuring.
"Stefan played a crucial role in helping to build a stronger foundation for Patagonia Europe over the last two years," said Collins. "He managed the company through the transition to our new Amsterdam headquarters, while growing our business and brand presence across the EU. We're grateful for Stefan's efforts and dedication during his time with Patagonia."
INFO: Patagonia