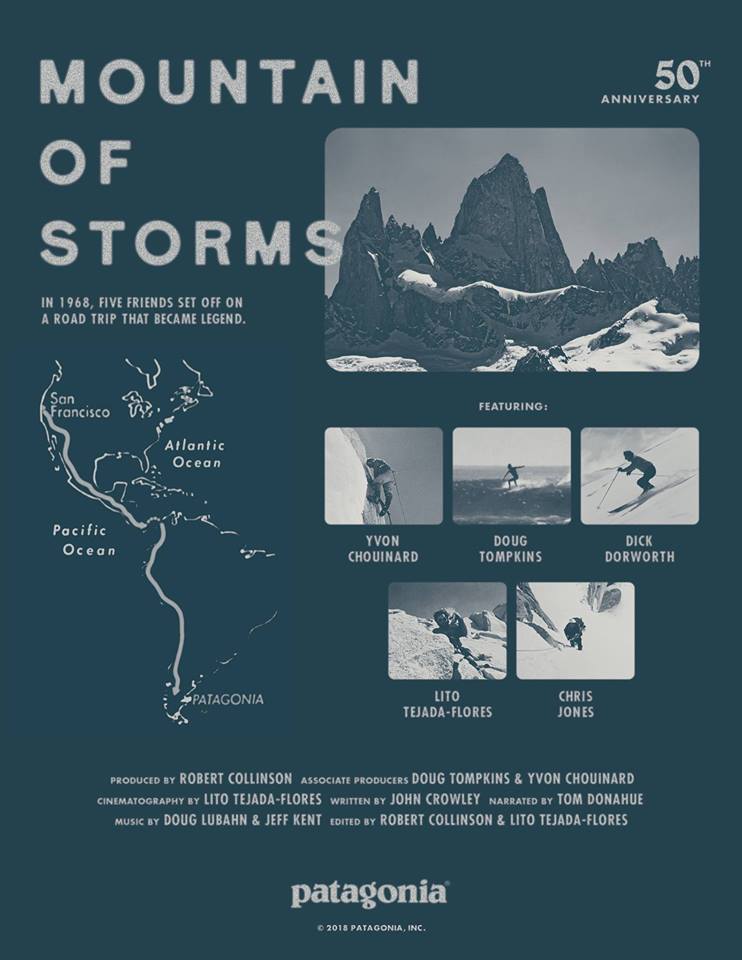 They called themselves Fun Hogs. In 1968, whilst San Francisco raved through the summer of love, five friends took an 8,000-mile road trip from the surf and sun of California to climb Cerro Fitz Roy in Patagonia, Argentina – documenting the whole thing on a 16mm Bolex camera. Along the way they surfed undiscovered breaks, skied on sand and snow, spent 31-days in a snow cave and made a first ascent on the southwest buttress of the mountain.
Fifty years later the film, which defined a lifestyle and became an underground classic, welcomes its first wide release. Starring –
Yvon Chouinard – Founder / Owner of Patagonia
Doug Thompkins – Co-founder of The North Face
Chris Jones – U.S. climbing icon
Dick Dorworth – U.S. Ski and Snowboard Hall of Fame
Directed by Lito Tejada-Flores – Mountainfilm Festival U.S.A. founder
Patagonia 'Mountain of Storms' EU Film Tour: Patagonia have announced a number of free public screenings, all taking place at Patagonia stores across Europe. The tour begins Oct. 4, 2018, at Patagonia Manchester & Patagonia Munich respectively with the film available for digital purchase beginning 9th October via iTunes.
The full EU tour rundown:
INFO: Patagonia