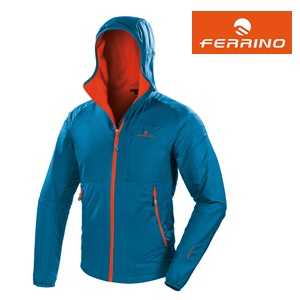 Thanks to exclusive partnerships, Ferrino offers products developed with innovative materials such as the Breithorn Jacket: thermal, breathable and water-repellent, thanks to Polartec® Alpha® Direct technology, this jacket does not need an additional fabric lining inside.
With Polartec® Alpha® Direct, Ferrino offers a garment with unique characteristics of versatility, lightness and breathability: an extremely complete and resistant garment able to takefull advantage of the body heat.
TECHNICAL DETAILS:
Fabrisc: HL Superlight 100% Poliammide Ripstop 30D, peso 50 g/m2 , trattamento Idrorepellenza
Filling: Polartec® Alpha® Direct 120 Weight:380 g Man / 340 g WomanKey
Features: Adjustable bottom with drawstring • elasticated cuffs • hood with rear exterior adjustment • side pockets and hip pocket
Man Sizes: S -M -L -XL -XXL -XXXL Man Sizes: XS -S -M -L -XL.