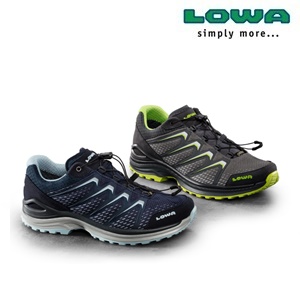 When a short walk in fact turns into a longer training outing, then the MADDOX GTX® LO is just the right companion for you. This multifunctional shoe is ready to go for whatever ends up happening. One good yank on its Speed Lacing system to tighten it down and off you go – no matter what the weather and on any terrain.
This lightweight, breathable multitalented shoe features a double injection-moulded LOWA DynaPU®sole that offers reliable comfort in the toughest conditions. Extra stability on demanding terrain is provided by the innovative LOWA MONOWRAP® technology. The breathable mesh fabric is just as ready to take it on when the going gets tough. Thanks to
the integrated GORE-TEX® membrane, this athletic LOW-CUT shoe is not only weatherproof, but it also ensures your feet stay dry during high-intensity activities. And that's not only why the breathable all-rounder is ready to go when you are: The practical Speed Lace technology allows the user to quickly and easily adjust the lacing to individual needs.
The light and airy, yet waterproof multifunctional shoe feels at home on any terrain – either on holiday or during free time. The grippy LOWA Enduro Evo Sole on this athletic all-rounder will most certainly rack up a little more distance by the end of any outing than originally planned.
Sizes: 6,5 – 12/13 I 3,5 – 9
Weight per pair (UK 8 I 5): 720 g, 590 g