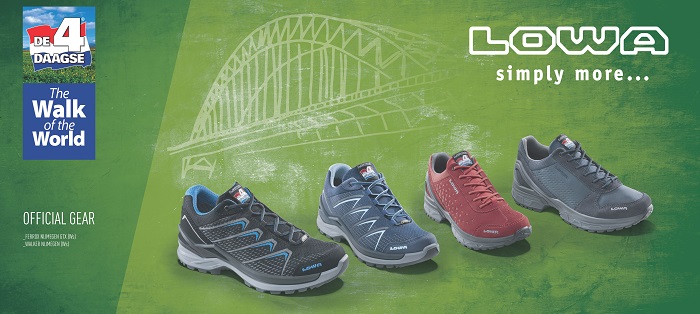 The Dutch city of Nijmegen will offer exceptional circumstances for a week. The city on the Rhine will be stormed by tens of thousands of hiking enthusiasts. Town central will be a party hotspot and all of the surrounding areas will be a hiking mecca. The occasion is "De 4 Daagse" (Four Days Marches), a hiking event second to none. LOWA is the lead sponsor as of this year and thus the official partner of this huge event.
The 103rd "Walk of the World" takes place in Nijmegen from 16-19 July. The 47,000 available registrations were taken very early as well as over 1.5 million spectators who want to be there for this spectacle when Nijmegen becomes the global capital of hiking for a week. Last year, organisers counted 1,615,000 visitors.
LOWA partner company TCK Sports Group, which has been extremely successful in selling LOWA in the Benelux region for many years, got this impressive partnership in gear. Organisers expect participants from more than 80 countries – In 2018, 84 were represented at the starting line. When it comes to spectators, the numbers could be even higher.
The first Four Days Marches in Nijmegen was a "star march" starting from 15 different locations. These marches are organised by the Dutch Physical Education Association (NBvLO). The 306 male starters at the first event came mostly from the military sector where the event today still enjoys great importance. This year, too, about 6,000 of the 47,000 participants will come from military organisations.
INFO: LOWA