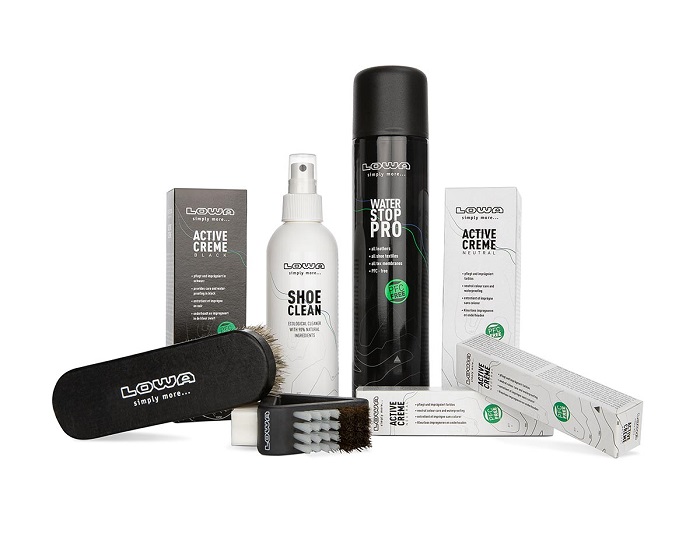 Rain, slush or sand – if you spend a lot of time outdoors, your boots will certainly become best friends with all of nature's elements. If you want to enjoy your favourite hiking boots for years to come, you should take very good care of them. Such care will benefit both your boots and the environment. For one major reason: Regular care will significantly extend the life of quality boots.
To provide its customers with the best-possible support, LOWA began to offer its own line of care products several years ago. This product line has recently been completely overhauled and is now PFC-free. In doing so, the Bavarian brand has taken an important step in its efforts to offer the most-possible sustainable products in every area. The decision to avoid using polyfluorinated and perfluorinated chemicals (PFCs) enhances the environmental friendliness of care products.
New products include LOWA SHOE CLEAN, which is composed of up to 90 percent natural ingredients like bamboo. This product can be used to effectively and thoroughly clean leather and synthetic materials. Working in tandem with the new product LOWA WATER STOP PRO and LOWA ACTIVE CREAM, the product enables you to carefully and sustainably clean, waterproof and care for your boots. LOWA ACTIVE CREAM comes in clear and black versions. The black form is designed to provide special care to smooth black leather. The intensive wax treatment keeps the leather supple over the long term and prevents drying out and brittleness when used regularly. In combination with LOWA WATER STOP PRO, LOWA ACTIVE CREAM provides perfect protection to your LOWA shoes. In addition, the outdoor-shoemaker offers the perfect care brushes that you can use to remove dirt or, in the case of the company's horsehair brush, to apply the wax treatment.
INFO: LOWA