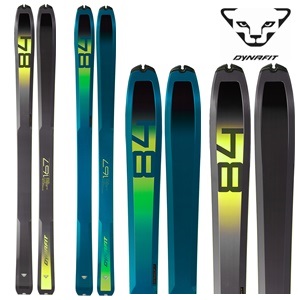 Ski touring as a sport is becoming broader and more varied. An increasing number of ski tourers train on-piste to be able to accomplish quicker, less complicated and safer runs to improve conditioning. Ski touring athletes, who are always thinking about their training, can now look forward to next winter with DYNAFIT: the brand for mountain endurance athletes is introducing for the first time ever a set-up designed just for on-piste ski touring enthusiasts. 365 days a year training. 365 days a year DYNAFIT. Any time of the day with the appropriate lighting.
Speedfit 84 ski. Uncomplicated and tailored just for performance ski touring on-piste: The new ski model Speedfit 84 for men and women. The SpeedFit ski with a classic waist of 84 mm scores with its optimum balance between weight and ski performance. Developers focused on finding the perfect balance between smooth handling and performance on compact snow just for on-piste ski touring use.
The Speedfi t 84 at 176 mm in length weighs barely 1,350 grams, making it a handy partner for quick ascents. Full sidewalls guarantee good edge grip on-piste, with the model remaining smoothly chatter free and stable in icy conditions. Women's and men's models feature rocker construction at tip and tail. The rocker construction and the sidecut are also adapted for each ski size, a unique feature in the ski touring market. This keeps the effective edge length equally proportional to each size, allowing it to function independent of the size.
To be able to best distribute the model's density, the ski is equipped with DYNAFIT 3D construction. This reduces materials in front of and behind the binding area in order to reduce overall swing weight without losing downhill performance. To save further weight, materials in the top sheet, where the construction does not contribute to performance, will be reduced to a minimum. Also new: The 3D TIP construction with a 3D Carbon Shovel improves damping properties on the descent. The ski adapts to downhill conditions and are not only forgiving but also offer smooth control on hardpacked snow.
The wood core of the SpeedFit 84 consists of a blend of materials from Paulownia, ash and poplar. An additional fi berglass layer makes handling and fl ex softer – and thus optimize its handling characteristics for on-piste touring.
Lightweight, uncomplicated skis for efficient on-slope ski touring
Length: 158, 167, 176, 183
Weight: 1150g (158), 1250g (167), 1350g (176), 1450 (183)
Radius A: 18,5 (158), 20 (167), 21,5 (176), 23 (183)
Functions: Full Micro Sidewall, 3D Tech, 3D Tip, Single Radius, Constant Characteristics
Material: Ash Poplar Ride Core, Carbon-glass fiber
Made in Europe.