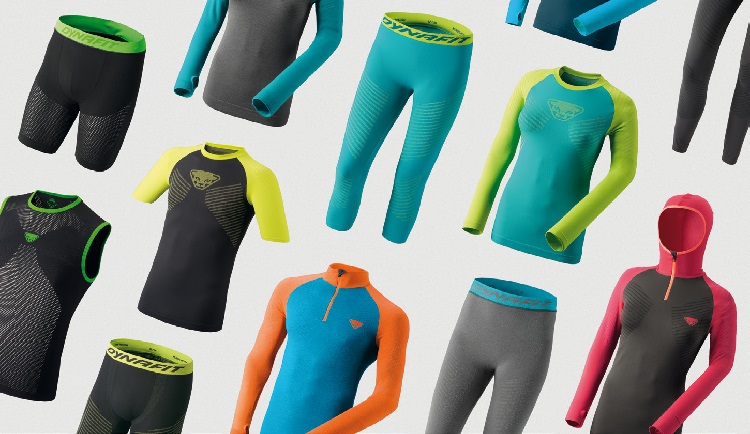 (Almost) too good to keep hidden: base layers for endurance athletes.
What do you have on under there? For Winter 2018-19, DYNAFIT brings colorful performance, comfort and color to next-to-skin garments. Ideally suited to the specific characteristics of winter endurance sports, the specialty brand from Aschheim presents four stylish base layer collections each designed for a specific application: Race, Speed, Tour and Free. Despite the differences in the cut, materials and thermal performance of the garments, they all have the following in common: Maximum functionality, unparalleled comfort and friction-free freedom of movement as a result of the seam-free S-Tech construction.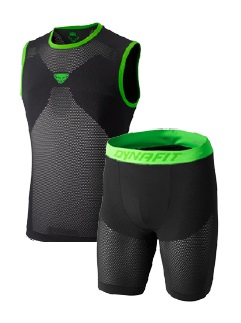 RACE – SWEATING HARD AGAINST THE CLOCK
Ski-touring racers sprint to mountain summits with breathtaking speed, so their equipment has to be tuned to provide maximum performance with minimum weight. For the base layer collection designed for race conditions, DYNAFIT's designers rely on a combination of ultralight materials including nylons, polyesters and Spandex. Mesh panels help to dissipate sweat and provide maximum breathability. The athletic cut and seam-free construction ensure a perfect fit and
optimum freedom of movement while preventing chafing while wearing the race suit. Windproof layers in the crotch offer additional comfort and protection during high-speed descents. The combination of a sleeveless shirt and short shorts give the ski racer the best possible chance to regulate body temperature, manage moisture and stay ahead of the clock all the way to the finish line.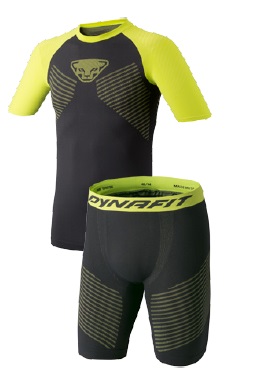 SPEED – WITH SPEED THROUGH THE WORLD OF MOUNTAINS
From the Zugspitze, to Mont Blanc, to the Himalaya – speed ski mountaineers climb the summits of this world in record time. To rise to new performance heights, their equipment needs to be strong, versatile and reliable. In addition, it needs to weigh in as light as possible. DYNAFIT meets these lofty goals with its base layer collection designed for Speed. It consists of four styles for men and three for women, made of ultralight nylon and Dryarn, an innovative microfiber. This material offers excellent moisture management and breathability, guaranteeing that your skin remains dry and warm even during extreme exertion. Additionally, it is extremely light, dries quickly and inhibits odor. These base layers are cut to fit close to the body. Their seam-free construction prevents chafing or pressure points under outer layers or a backpack. Areas subject to particular stresses were identified by extensive body mapping and reinforced for additional protection, while micro-perforations built directly into the material provide additional ventilation where needed. The materials and design make these base layers ideal for fast mountain activities year round – pushing hard to climb a 4000er (13,000-foot) peak with skis either on your back or on your feet, then hammering down from the summit in a high-speed descent.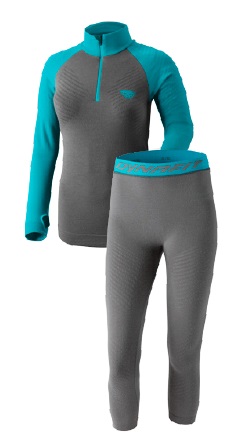 TOUR – CHALLENGING ASCENTS AND AWESOME DESCENTS IN THE BACKCOUNTRY
A long way from prepared pistes, ski tourers search the backcountry looking for ultimate freedom. The main motivation is the fun of being out in the natural world, building and maintaining a higher level of fitness, and climbing new peaks and skiing all the possible lines on incredible descents. In order to meet the endless variety of athletic demands and varying weather conditions tourers encounter on ascents and descents, DYNAFIT's designers have created a long-sleeved base
layer top with half zip and a 3/4-length pant both for men and women. Available in two color combinations, these base layers utilize a functional combination of materials including highquality merino wool, Dryarn, nylon and Spandex. This makes them particularly soft against the skin, and keeps the wearer warm and dry even in cold conditions. Additionally, they are light and breathable. The mid-high collar of the long sleeve model protects the sensitive neck area from cold
and wind, and can be opened up during ascents for ventilation. Elastic cuffs and practical thumb loops increased comfort. The developers have utilized the proven S-Tech seamless construction to guarantee a perfect fit, as well as extensive body mapping for performance while not style either.
Ski tourers can enjoy a break in the hut knowing that they look great before heading out to find the best line on the descent down to the valley.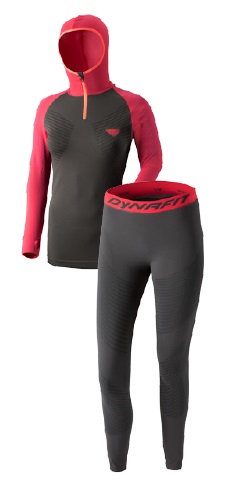 FREE – THE POWDER IS WAITING FOR YOU
Earn your turns – Free-tourers are always on the search for untouched powder, then looking to perfect the art-meets-science game of weightlessness and centrifugal force. Making this possible means making gear and clothing that saves energy on the ascents and allows maximum performance on the descents.
DYNAFIT's product developers have met this challenge with brilliant functionality and style. They have utilized a material combination of nylon, Dryarn and Spandex that keeps the wearer warm and dry and is still light and breathable. No more overheating and losing energy on the ascent. A long-sleeve hooded top is available in two color combinations both for men and women, and a long tight rounds out the lineup. These base layers have an athletic, body-conscious cut and — thanks to the S-Tech construction and the stretchiness of the material — provide perfect freedom of movement. The hoody has a half-length zip that can be opened for ventilation or zipped way up high toward the face to cover the neck and prevent loss of warmth. Wide elastic at the hem and cuffs (which have generous thumb loops) mean that the base layers will not slip or ride up under your hard shell. The tights have a broad waistband and a gusseted crotch to increase comfort. Intelligent body mapping was used to create evaporation and insulation zones to keep your core temperature stable. Everything's ready for maximum downhill performance on untouched deep powder.
THE BASE LAYER COLLECTION FOR MOUNTAIN ENDURANCE SPORTS.
INFO: Dynafit