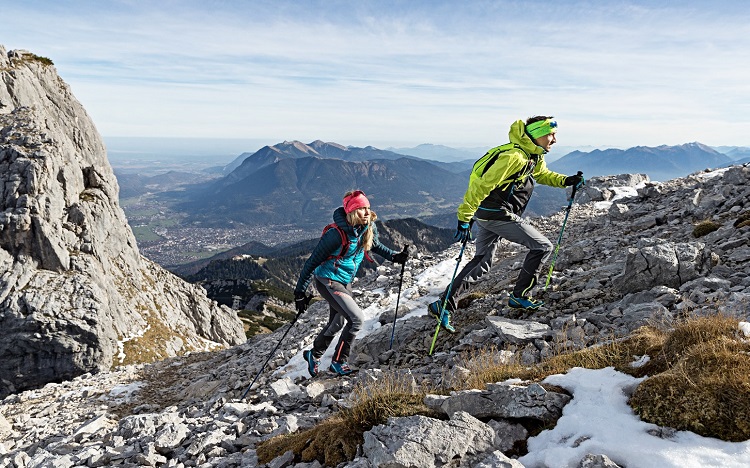 The days are getting shorter, the leaves are falling, but the first snow isn't quite on the horizon: This between-season time can truly try the patience of athletes and in particular of passionate ski tourers. But that doesn't have to be the case. Because the third-quarter season between summer and snow can be ideally used to prepare for the coming winter with running workouts over hill and dale and quick peak-bagging excursions. At Dynafit we want to ensure mountain endurance athletes are well equipped for cooler temperatures, changing weather conditions and the first snowflakes. So DYNAFIT is launching a collection that is in particular well suited for athletic endeavors in this between season — highly technical, comfortable, versatile, and outfitted with numerous technical features. That means the long wait for all the good stuff will be a little bit easier.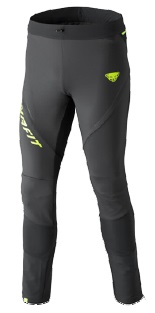 SELECT HIGHLIGHTS OF THE DYNAFIT Q3 COLLECTION: ALPINE WINTER PANT
With the Alpine Winter Pant, cold and wind are not a reason anymore to hang up your running shoes and disrupt your training. Thanks to its superbly engineered ventilation and hybrid construction, this bodyconscious, athletic-cut pant made of wind-resistant and highly stretch Dynashell windproof fabric is the ideal companion for long runs even in adverse weather. To protect thighs and the sensitive knee area from chills, the pant incorporates wind-resistant panels on the front side. At the same time, breathable fleece on the back adds that little extra bit of warmth. The fabric itself offers high stretch and thus gives trail runners
maximum freedom of movement. Flat seams and an adjustable waistband promise extra comfort. The pant has a small zip pocket for stashing small essentials such as tissues or a key, plus it has pockets for gels or flasks for ideal places to pack them along for use on the run. The pant, 100 percent made in Europe, is
available in both men's and women's styles and weighs a super light 328 grams (women's, 288 grams). For better visibility at twilight or in the dark, these running tights are also equipped with reflective strips.
– MAP 150 Euro
– SIZES 46/S – 54/XXL (Men)
– 38/32 – 48/42 (Women).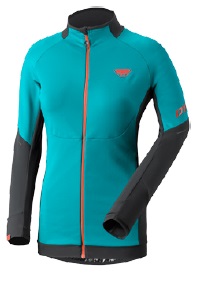 ALPINE WINTER JACKET
When the temperatures hovers near freezing and the wind whistles mercilessly, mountain runners need a really dependable companion. The Alpine Jacket made of premium Dynastretch lends performance and comfort for your everyday training with its well-thought-out hybrid construction. Wind-resistant panels ensure extra protection at critical points. On the back of the jacket mesh inserts increase breathability so athletes avoid overheating even when the intensity goes up. The cut of this made-in- Europe jacket is athletic and form fitting. The mid-cut collar protects the sensitive neck area from chills.
The fabric offers super stretch and, together with the elastic sleeve cuffs and waistband, ensure the utmost in freedom of movement and comfort. Of course, the Alpine Winter Jacket has reflectivity for best visibility. Large front pockets offer room to stash all your provisions including snacks or a key, thus rounding out the overall concept of this athletic running jacket. The men's style weighs just 323 grams, while the women's version weighs 273 grams.
– MAP 150 Euro
– SIZES 46/S – 54/XXL (Men)
– 40/34 – 48/42 (Women)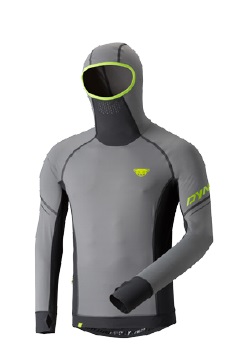 ALPINE LONGSLEEVE
Whether worn alone or as a mid-layer, this Alpine Long Sleeve is the ideal apparel base for mountain endurance athletes with its particularly close-fitting, athletic fit. The long-sleeve shirt is made of a highly breathable technical fiber and therefore ensures perfect moisture management on challenging runs and quick mountain ascents. Sweat is wicked away quickly and reliably so skin stays comfortably dry even during high-intensity outings — and you stay warm too. The close-fitting hood with micro-perforations at the front protects dependably from chills in cool temperatures. Flat seams and elastic cuffs at the wrist and hem ensure great fit and superb comfort. Four-way stretch is something trail runners will enjoy with its unlimited freedom of movement. A zip pocket, thumb loops and reflectivity round out the Europemade long-sleeve shirt. The men's version weighs 286 grams and the women's style weighs in at just 247 grams.
– MAP 120 Euro
– SIZES 46/S – 54/XXL (Men)
– 40/34 – 48/42 (Women).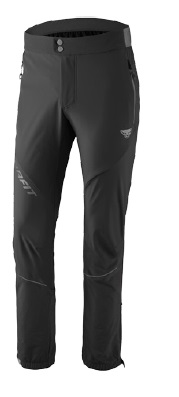 TRANSALPER PRO PANT
The beloved Transalper series for fast ascents will welcome a warm addition for the winter 2018-19 season: For the Transalper Pro Pant, textile developers again selected hybrid construction to best take on the often difficult weather conditions confronted in the between-season period. At 331 grams (men's) and 293 grams
(women's), this pant made of Dynashell Windproof fabric is very lightweight and breathable, but at the same time durable and abrasion resistant. Wind-resistant panels protect thighs and knees from chills, making this model ideally suited for Speed Mountaineering in the colder season. The pant's cut is athletic, body-conscious and, with its stretch fabric, enables great freedom of movement. Numerous well-thought-out features make the Transalper Pro Pant the new favorite piece for ambitious mountain endurance athletes who don't want to forgo easygoing peak-bagging in the time between seasons. The hem is easily adjusted, and the silicon grippers at the waist ensure improved fit and stay. Numerous pockets offer plenty of room for various small items, and reflectivity ensures better visibility at dawn or dusk. The Transalper Pro Pant is available for men and women, each in two colors.
– MAP 150 Euro
– SIZES 46/S – 54/XXL (Men)
– 40/34 – 48/42 (Women).
INFO: Dynafit