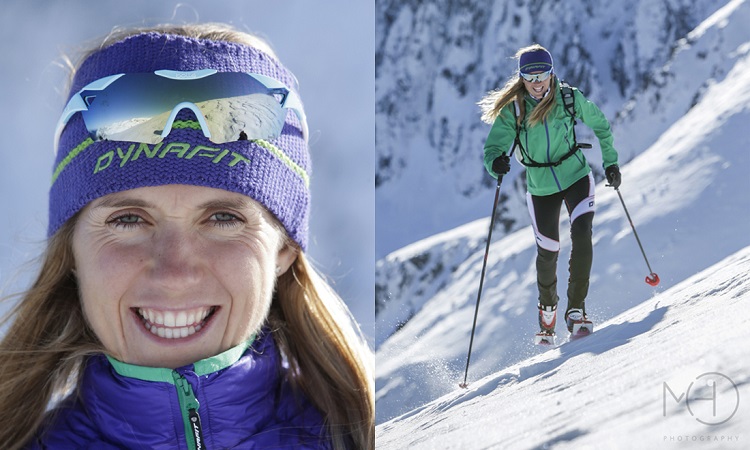 Clàudia Galicia Cotrina is currently one of the most successful female athlete in ski mountaineering and Dynafit athletes. Read the interview:
On-piste ski touring has become a pretty massive trend in the last couple of years. Not only professional athletes train on-piste but also beginners and everyday ski tourers do. Why?
Ski slopes are a safe playground and also the perfect environment for making your first steps in ski touring. Usually the skiing areas are easy to reach without long distances, you don't have the risk of avalanches or any complicated tour planning demanding attention to route or gradient. And of course making new tracks in the snow is pretty exhausting – especially for beginners. With on-piste ski touring, you can just hit the slopes and go. Practicing first before you go into the backcountry is the main reason for beginners. For intermediate skiers, it might be more about getting into the rhythm again after a summer break or for improving endurance. Of course, snow conditions in general play an important role for the reason on-piste ski touring has become very popular. Still, it is also always important to respect the piste and the skiers.
For you as an athlete: What are the advantages of on-piste training?
On-piste training is an important part of my routine as an athlete. Usually the slopes are prepared and ready to use before the conditions in the backcountry are good enough for ski touring. On the piste I am preparing for short races. I can improve my speed and endurance; it's perfect for interval training. I can just focus on the athletic aspects of ski touring. As a vertical sprint racer, the piste is kind of an outdoor gym for me.
Ski touring on-piste instead of going to the gym: Who is best suited for this training?
Actually, everyone can give ski touring as a sport a try by hitting the slopes. It's great cardio training and perfect for coordination and conditioning the muscles of your whole body. Uphill and downhill are different movement patterns and work different parts of your body. So it's also perfect for to get in shape. At the same time you can enjoy fresh air and beautiful mountain scenery. But of course you should know how to ski first – since you also have to go downhill.

What equipment do you use for your on-piste training?
Of course I have a special racing setup which is super light but also harder to handle. If I want more comfort – and also more fun downhill – the DYNAFIT Speedfit setup is just right for me. The skis are very light but still glide very smoothly. They have good edge grip, even on icy surfaces and the rocker construction brings fun back to training. The Speedfit boots and bindings complete the setup. The focus here is not only on reduced weight but also on efficient handling and comfort.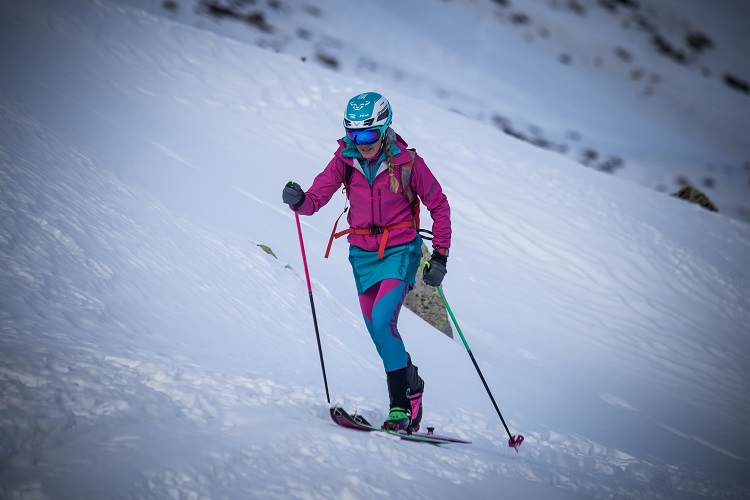 What kind of clothing do you wear for on-piste ski touring?
In general it's important to have clothes that are very breathable but at the same time protect you against cold, wind or snow. Very often I see people who are warmly wrapped in thick clothes or jackets and who overheat and sweat like crazy when they ascend. The best solution is to work with different layers and to keep an eye on the expected conditions. For enjoying a short break at the top I bring a warm and comfy PrimaLoft jacket and a matching skirt that provides additional warmth where it's most needed. One super positive aspect about the skirt: It also looks very nice – on-piste or in the lodge for an après-ski drink.
Any recommendations or tips for ski touring beginners?
Start with a short tour and bring some friends who know are more experienced at ski touring. In many areas in Europe, especially Austria and Germany, the ski resorts have special evenings or nights where you can use the whole piste and can have a snack in the lodge afterwards. It's a great atmosphere and a cozy get-together. Just enjoy it!
INFO: Dynafit